Tea is among the world's oldest and most preferred beverage. It makes perfect sense that you might have a tea-lover on your Christmas to buy for list. While teapots, electric tea kettles, tea strainers, and other gifts for making tea, are wonderful gift ideas- loose leaf gourmet tea from Tea Gallerie in itself is the ultimate gift.
Over the years I have tried various types of gourmet tea from Tea Gallerie. Here are just a few of my favorites.
Fall & Winter tea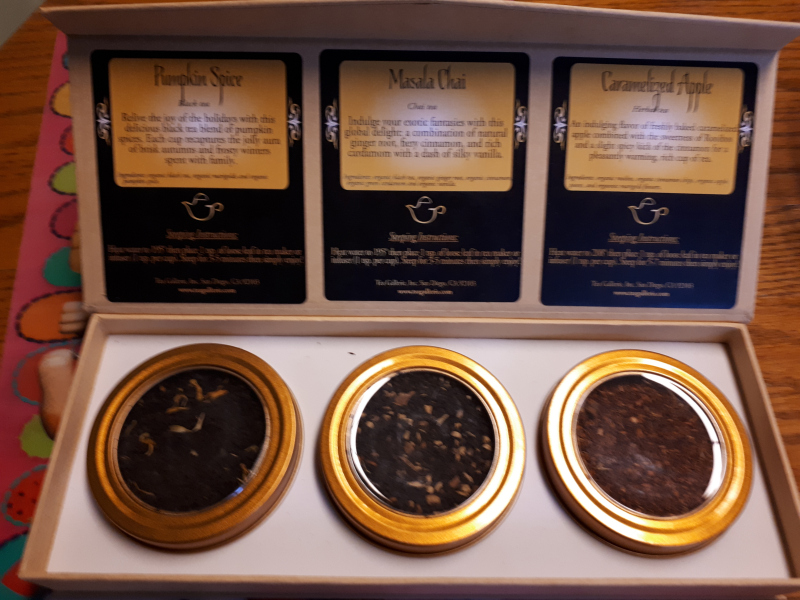 Caramelized Apple Tea- There is nothing like an indulging flavor of freshly baked caramelized apple combined with the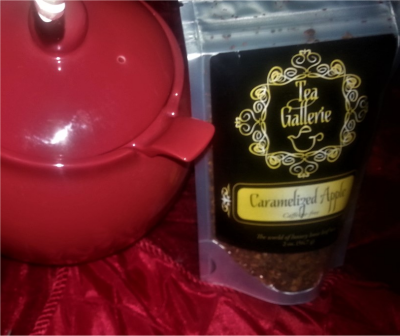 sweetness of Rooibos and and a slight spicy kick of cinnamon. The tea has a nice, fresh fruity-apple taste that leaves a savory sweetness behind. I found Caramelized apple not to be overly sweet, but the perfect desert beverage after a meal. Allow tea to steep for 5 to 7 minutes. If you prefer a weaker tea steep for 3-4 minutes.
Pumpkin Spice- This tea will quickly become a favorite blend among pumpkin spice fans! Each cup recaptures the jolly aura of brisk autumns and frosty winters spent with family.  The tea contains pieces of organic marigolds and organic pumpkin spice in a black tea. Steep for 3-5 min and enjoy.
Christmas Brew– a zesty array of ripe fruits and berries, followed by the lingering spicy undertones of aromatic clove and fiery cinnamon. I really liked this fruity tea. The aroma of this steeped tea is fantastic. Although the smell is strong, the taste is gentle and subtle – not overwhelming at all. It is a really nice holiday tea.
Tea for good health
Tea Gallerie Get well Tea– Does a bitter cold, or a real-life invasion of the body snatcher- known to us as the dreaded flu have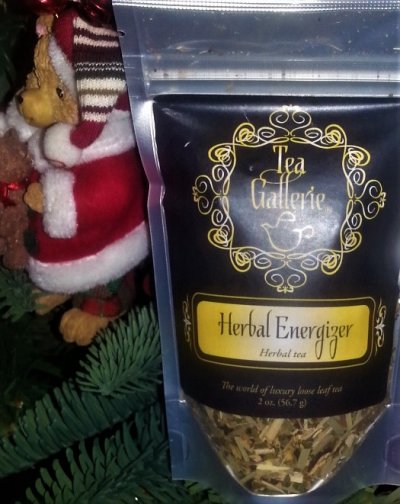 you down? Warming up those flu chills is made easy with your favourite tea beverage from Tea Gallerie.
"It is always a pleasant experience for me with every new blend I try. Tea Gallerie teas have never failed to satisfy the tea lover in me."
Why not send some get well tea from Tea Gallerie to someone you know who is under the weather?
Herbal Energizer Herbal Tea  is a fusion of rich licorice and ginseng, cleansing peppermint and lemon, and tropical hibiscus and passion flowers. This is a nice flowery, minty, herb blend with no caffeine aiding mental clarity.
Ginger Orange Green Tea– Tea Gallerie Ginger Orange Green Tea is a delicate balance of a classic citrus tea, with the
wonderful benefits of a caffeinated green tea. The light orange notes are complimented by the bite of ginger that coats your pallet for a smooth finish.
To prepare I recommend one extra scoop in your tea infuser or tumbler. Green tea and ginger boast great antioxidant benefits serving as a wonderful dietary supplement in your beverage rotation. When consumed warm the tea serves to break down the fats in your meal, as well as aiding your body in the natural digestive processes.
The tea also contains antiviral components that may be helpful against flu infection. This tea is also great served over ice, I recommend adding two extra scoops and fresh cut lemon, lime, or orange slices to your water bottle. This tea will serve to boost your immune system and will provide an excellent source of energy during your fitness routine.
Oolong Teas
Monkey Picked Oolong was smooth and well balanced. With fresh lemon and some Ginger Root it helps speed up the recovery time from the common cold. The spent tea is reusable without compromising its flavour. Oolong is known for aiding in digestion and has the benefit to contribute to weight loss when paired with a well balanced diet.
Peach Oolong is mellow and refreshing. It's excellent hot or iced. Like traditional Oolong this tea boosts your immune system and contributes to a healthy metabolism. Add fresh berries and mint leaves for a crisp midday refreshment.
Berry Harvest Tea– Tea Gallerie Berry Harvest tea is a delicious blend of hibiscus petals and succulent blueberries, cherries, cranberries, currants and strawberries. This caffeine free beverage makes great iced lemonade, with the natural sugars of the berries serving as an organic sweetener. The tea is also high in antioxidants and the hibiscus acts as a natural blood stabilizer, lowering blood pressure and detoxing the body of unwanted toxins.
Chai Tea
Masala Chai- This is a chai tea with attitude. Indulge their exotic fantasies with this global delight: a combination of natural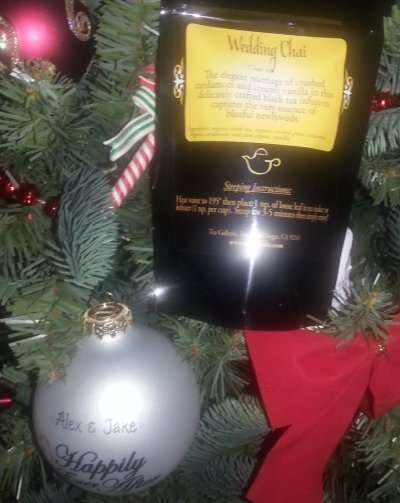 ginger root, cinnamon and rich organic green cardamom with a dash of vanilla in a delicious black tea. Steep for 3 to 5 min and enjoy.
Coconut Chai Tea– Tea Gallerie Coconut Chai is a great blend of black tea, ginger, cinnamon and shredded coconut. It serves as a great substitute to coffee. The sweet taste of coconut serves as a perfect substitute to sugar.  My son tried this tea as a custom tea latte. Adding a touch of agave and steamed soy milk it was a great alternative to his routine, which is a classic chai that he orders from his local café.
Wedding Chai- Chai comes in so many flavors. If you love Chai, you have to try the elegant Wedding Chai. It is the perfect holiday drink. It would make for a great Chai Latte. Wedding Chai is a blend of black tea, crushed cardamom and creamy vanilla. It is the perfect combination of these flavors!
San Diego based Tea Gallerie really is a tea lover's dream. They have a variety of wonderful flavors and you can purchase loose leaf tea  in different sizes, from 2oz pouches to 1lb tins. They even have teas for kids. Tea Gallerie also carries tea ware.
Make the holidays easy this year. Order these gift ideas for the tea lover from Tea Gallerie teas!
Adding any of the several loose leaf teas to a gift basket with some homemade short bread cookies, a tea pot and a tea infuser would make for a beautifully presented, inexpensive gift. Check out the company's array of gourmet tea and tea-making accessories and treat someone to gourmet tea!
Are you a tea drinker? Will you be gifting a tea gift this year?
About Tea Gallerie
Tea Gallerie first opened its doors in 2010 in San Diego. Owners, husband and wife John and Maria aspired to simply bring their passion to the community by explaining why tea is a healthy alternative to most beverages in addition to being a drink with many more varieties than most could imagine. Its line of kids teas, Teas4Kids, is the company's next big venture as it strives to bring health-minded habits into the lives of children throughout the nation. The tea lounge is open Monday through Friday from 8:00am to 6:00pm.