Virtual reality is definitely a huge hit in 2017 with Mobile users. With Android, iOS, Xbox, Sony Playstation, YouTube, and of course Google Play it's gearing up to be the next big thing. Maybe you haven't heard of VR. Despite its new popularity there are many who are unsure what VR headsets do. My wife didn't know what all the hype was about until she experienced it and my eldest daughter is still in the dark! Allow me to explain! VR stands for Virtual Reality! It allows the user wearing the VR headset to emerge and experience full 3D, or panoramic view bringing things to life with stunning graphics and special effects. And that brings me to telling you all about the BlitzWolf VR Headset I purchased via Amazon.ca. Experiencing VR is phenomenal with this headset! If you have a teen to buy for this Christmas then I recommend the BlitzWolf VR Headset. With Amazon Prime you can order it in time for Christmas too.
BlitzWolf VR Headset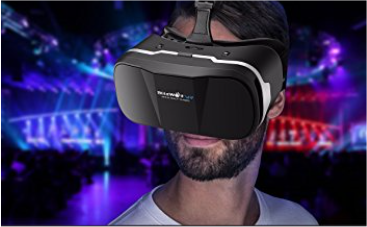 The BlitzWolf VR Headset is extremely versatile as well as its compatible with most smart phone's sized 3.5″-6″, such as iPhone 6s Plus 5s, Samsung Galaxy S5 S6 S6 Edge S7 Note 4 5 Edge, LG G3x Sony Xperia Z3 and many more.
The new design of BlitzWolf 3D virtual reality headset also addresses the issue that they previously had with smart phones and their control buttons that are on the side. The new cradle allows you to adjust the phone so this is no longer a problem.
The cradle has soft rubber mounts inside to protect your phone from slipping or scratching, and keeps it firmly in place. The front cover of this VR headset can be detached for ventilation and keep your devices cool.
Some VR apps also use the camera as a feature to their APP to bring objects to life. The BlitzWolf headset gives clear visibility of the rear camera so apps like, 4D+ Animal Zoo from Utopia can utilize the smart phones camera. This makes the BlitzWolf VR Headset versatile for other applications.
The VR Headset also has added open sides, so you can simply attach a pair of headphones to your smartphone, which makes them perfect for gaming or 3D movies.  You can adjust them or fine-tune for pupil distance in 55 or 65mm; and you can focus each eye lens separately for different vision impairments.
The BlitzWolf VR Glasses also have detachable soft leather padding which makes them extremely comfortable, and easy to maintain and clean. The headset itself is designed using ABS, making them extremely light weight and very comfortable to wear.
The adjustable elastic bands have leather strapping for comfort and have a padded leather rest that fits comfortably on the back of your head to prevent the glasses from shifting around or sliding down.
The HD lenses, are made up of 8 layers nano-coating and 5-time polished, 42 mm Mitsubishi aspherical FOV108 lenses, and have a protective anti-scratch coating.
Overall, the BlitWolf VR Headset 3D Virtual Reality Glasses, are sure to last a long time with many hours of use. And it is amazing deal at
What's included in the box:
• Blitzwolf VR Headset
• Bluetooth Remote
• English Instruction Manual
• Replacement Rubber Bumpers
• Cleaning Cloth
• Card