When it's cold outside, there's nothing like staying in snuggled under your favorite fleece thermal blanket. If you love curling up under a big blanket, then the Polartec 300 series fleece thermal blanket from Puffin Gear is a must have for you.
Available in 3 sizes the Polartec 300 series fleece thermal blanket is one of the warmest, softest, most durable blankets I have ever owned. It's not just for indoor use either. The blanket offers a thermal layer to wear on very cold excursions making it the perfect go to blanket for sitting around a roaring bonfire with mugs of hot apple cider in hand or snuggling under as you watch the Santa Claus parade.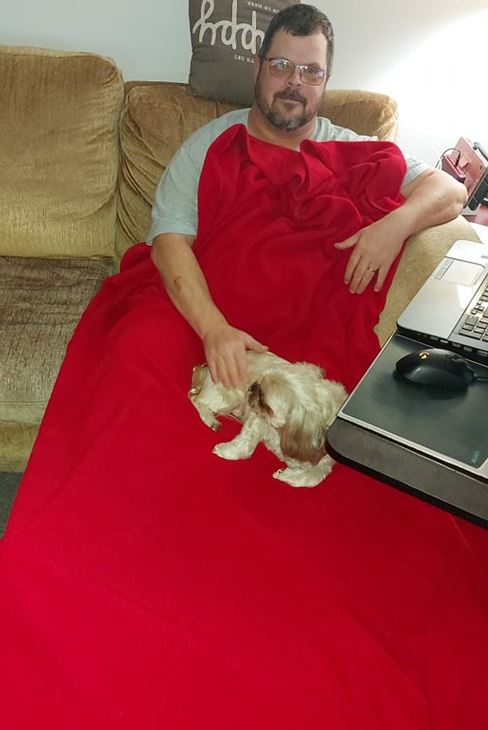 The blanket we own measures 80″X 60." The size of the blanket was a huge seller for me. My husband who is 6'1"—often has a hard time fitting under standard blankets. His toes normally stick out. The Polartec 300 series fleece thermal blanket was literally built with tall people like him in mind.
I like to wrap myself like a burrito in my blanket. As a plus size lady, I was impressed the blanket covered my husband, our daughter and me. No more fighting over blanket, as I tend to be a little bit of a blanket hog.
I'm not sure if it was made to be pet-friendly, but our shihtzu loves to curl up under it. Since it's so large, I can also easily slide in and out of it without waking up our sleeping shihtzu, unless I am going to the kitchen for a night time snack that is.
We use the Polartec 300 series fleece thermal blanket as a couch blanket, a bed blanket, an outdoor blanket and a floor blanket—and for all four, it was amazing. We own a queen-sized bed, and it is the perfect fit.
To me, the 127.95 price tag is absolutely worth it. It's everything one could ever want in a blanket, and my husband says he does not plan on crawling out of it anytime soon.
Overall, It's soft, comfortable, easy to wash and looks absolutely gorgeous draped over my couch or covering my bed. What's not to love?
Do you have a blanket enthusiast on your shopping list? If you answered yes then the Polartec 300 series fleece thermal blanket from Puffin Gear is an absolute must purchase. Available in eight different colors I am sure you will find the perfect match for their decor.
I would also recommend following Puffin Gear on social media. They sell hats as well.
Prices were accurate at the time this review was published, but may change over time.
About Puffin Gear
Heather de Man is the face behind Puffin Gear. She started her business in 1998 designing children's hat designs. Originally an engineer, Heather left the industry to start Puffin Gear when she noticed a void in the market for children's hats. It was the desire to dress her young children in contemporary styles without sacrificing function that established the principles behind the business.
Having parents with backgrounds in textiles and design, Heather developed a passion for both at a very young age. Constantly making and wearing her own clothes, she developed a flare for designing original pieces. Heather's engineering background provided her with strong design principles; she understood the importance of functionality and performance, and above all, knew that not only could there be a balance between quality and contemporary style, but that both could be achieved simultaneously.
This lifetime of experience in design, her strong appreciation for the art of textiles, and the dedicated employment of high production standards has helped evolve the company from a children's hat stand in Toronto's St. Lawrence Market, to the successful, innovative, and contemporary Puffin Gear of today. Just as it was in 1998, Heather continues to infuse her passion for smart and stylish design, by overseeing all areas of production in her Toronto studio.
Social Media