If there is one talent I wish I possessed that would be the ability to knit or crochet. When I was a young girl I tried my hand at knitting and truth be told it was something that I could not master. Luckily for me there are talented people out there like Ann Petrov that know how to knit and crochet and use their talents to make a living. This is a plus for someone like me who loves crochet and knitted items, but do not possess the talent to make items our-self. If you have ever searched for crochet items then you're already aware that there's a lot of businesses out there. I have found over the years those that not all are created equal and some do it as more than a way to make a few quick bucks than as a passion. Ann Petrov of Cozy Handmade Designs creates attractive handmade crochet knitwear and for her it is easy to see by the quality of her work that it is something she is passionate about.
She is an Estonian designer who has lived in Ireland for the past ten years. Ann makes handmade crochet knitwear for kids, women, men ,and home.
Ann has a distinguished eye for detail and works with colors that go well together. She uses a lot of vintage inspire designs in her handmade crochet knitwear creations. She takes vintage styles and gives them a more modern appeal. Her designs for women are definitely rather feminine I must say.
It addition to women and men handmade crochet knitwear designs she has various cute designs for children with one of them being her line of My LIttle Pony crocheted hats. I met Ann via Twitter and absolutely fell in love with her My Little Pony Hats. This is one of these times I love social media and networking.
My little Pony Hat with earflaps – Twilight Sparkle
This holiday season give the warmth of a crocheted My little Pony hat. The Twighlight Sparkle hat is absolutely adorable. It is made out of acrylic wool, decorated to the detail with the characteristics for the pony and comes in two sizes-2-4 years and 4-8 years.
The hat features crochet eyes, mane and ears. The hats weight sits in the top of the head. Also the main moves around. Twilight Sparkle skin is purple and the main is a very deep purple with pink stripes. Her eyes are also purple and she has a unicorn horn on the top of the head.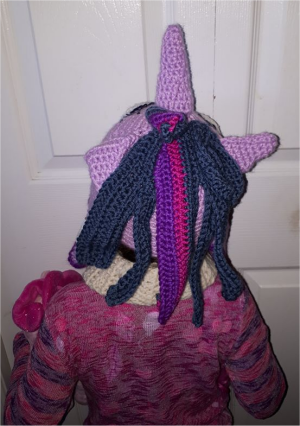 I was presently surprised at how thick the crocheted Twighlight Sparkle hat is. It is certainly durable enough that it will outlast past the time my daughter will be able to wear it. Of course my daughter loves the hat and for her it has become a wardrobe staple. I highly recommend it.

Crochet Ear Warmers
Crochet Ear Warmers are winter's answer to the headband. Part winter wear, part fashion accessory, they're a great way to stay toasty and they look absolutely adorable. The pom poms on the headband makes it girly and delicate. Its also stretchy and can fit to larger heads. Similar to regular headbands the ear warmer is wide enough to cover the ears. They're also super practical, holding lots of warm air and keeping my daughter's ears cozy. Alternatively I can use the headband as a neck warmer.
About Cozy Handmade Designs
Cozy Handmade Designs features luxury handmade crochet knitwear for the whole family and home. Ann has been knitting since she was six years of age. Her grandmother taught her everything she knows in the craft and has gained more technique and experience since. She is busy mom of two and works from home. All of Ann's handmade crochet knitwear designs are her creations and designed by her. She calls it her sanity put in to craft. Ann has diploma in Interior Design, and is great to give you advice in colour scheme or soft furnishing. Ann also makes roman blinds.
Website: www.cozyhandmadedesigns.com