With the holiday season upon us, I wanted to share two of my favorite Franklin the Turtle Christmas books! Both books are not only fun for kids to read, but they also teach kids that it is better to give than to receive and about the true holiday spirit.
About Franklin the Turtle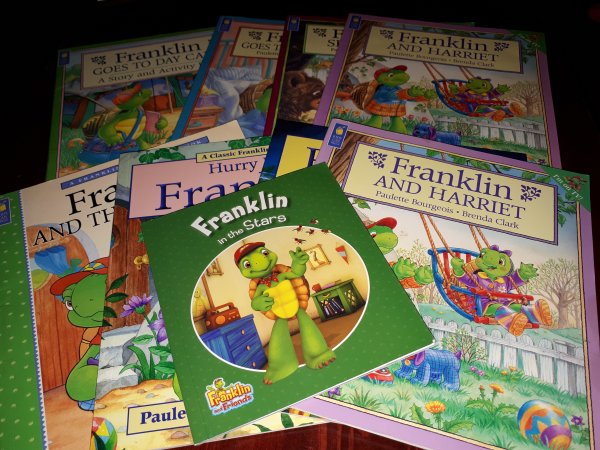 Franklin the Turtle is one of the best known characters in contemporary children's literature. The series of books created by Paulette Bourgeois (illustrator) and Brenda Clark (author) are about the adventures of a young turtle named Franklin, his family and friends. The Franklin the Turtle book series begun in 1986 with Franklin in the Dark, inspired by an episode of the hit television series M*A*S*H. Franklin in the Dark was actually a Canadian best-seller, when it appeared in 1986.
Since that time, Franklin has entertained and inspired children in 100 different tales. He has also sold 65 million books in 30 languages. Franklin has started in his own TV show and license his likeness to the makers of plush toys, lunch boxes and more.
Franklin the Turtle Christmas books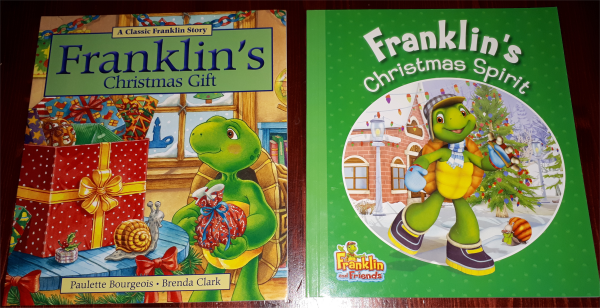 Franklin's Christmas Spirit (Franklin and Friends)
Based on the popular Franklin and Friends 3D-animated television program,Franklin shows young children that, even though they're small, they can still make a difference in their own communities.
"It's nearly Christmas, but the adults in Woodland are too busy buying presents, putting up their trees and decorating to have any time for holiday fun. This gives Franklin the turtle an idea. "What if we go caroling?" he says to his friends. "I bet that would get everyone into the Christmas spirit!" At first, they all agree it's a great plan. But when caroling time comes, Franklin and Snail are the only two who show up in the town square. Though he's disappointed, Franklin bravely begins singing all by himself, with Snail accompanying him on the harmonica. Slowly, people start to gather around. Soon they begin caroling, too. And before long, thanks to Franklin, everyone in town has found the holiday spirit!"
The book is a beautiful way to teach children about the importance of appreciating the real spirit of the season and how we can keep the spirit alive when others in our community have forgotten.The book can be an especially good stepping stone for discussions about  what "holiday spirit" means and how children can help foster it.
Franklin's Christmas Gift
Franklin's Christmas Gift is the re-release of a classic from the enduring Franklin series by Paulette Bourgeois. Franklin can't decide what to donate to his school's Christmas toy drive. At first, all of his toys seem too special to give away, then nothing seems special enough. With some inspiration from his Great Aunt Harriet, Franklin finally comes up with the perfect gift.
Franklin's Christmas Gift is an excellent addition to the Franklin series. Through the book children learn that it is must better to give then to receive.
I love the idea of children giving to other children, because it helps them at an early age understand that  the little things we do can make a difference. We actually donate toys each year to the Firefighters toy drive in our community. Therefore our daughter was able to relate to the book. Overall this is a wonderful book and I definitely recommend it.
Order a copy of both Franklin the turtle Christmas books today and introduce a whole new generation of children to Franklin the Turtle.
Kids Can Press is the largest Canadian-owned children's publisher, with award-winning books designed to develop children's literacy and love of reading.
Website: www.kidscanpress.com