One of the simplest family Christmas traditions you can create with your child(ren)  is reading a Christmas book together. One of our favorite activities to do during the holidays is to countdown the 25 days of Christmas by reading one special Christmas book a day.  With just ten days left until Christmas I have pulled some Christmas books out from storage and added a few new Christmas books to our collection. If you're looking for some Christmas book recommendations, might I suggest two Christmas titles from Raincoast Books. The titles are The 12 Sleighs of Christmas and Penguin's Christmas Wish.
The 12 Sleighs of Christmas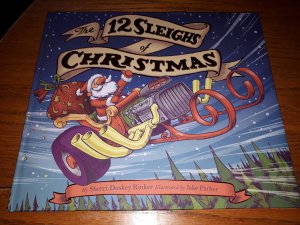 From Sherri Duskey Rinker—the bestselling author of Goodnight, Goodnight, Construction Site comes "The 12 Sleighs of Christmas."   Told in rhyming text, the story will delight children who love cars and trucks.
"When the elves discover that Santa's sleigh is in a terrible state, they let their imaginations go wild — and soon there are sleighs of every kind, inspired by big rigs, motorcycles, zeppelins, and much more!"
In this fun Christmas story each elf is trying to outdo the other Elf, as they invent sleights that look like, flying saucers, floating airships and even a motorcycle sleigh. Although Santa likes them all, he ends up relying on his classic sleigh , which has been repaired by the smallest elf.
Jake Parker's cartoon-like illustrations are vibrant, colorful and fun. The story though is rather lengthy, and some the rhyming schemes were off, but my daughter didn't notice or mind. Overall, it is a cute book.
Penguin's Christmas Wish
Penguin's Christmas Wish is the sixth book in the popular Penguin series by author-illustrator Salina Yoon. "Penguin can't wait to celebrate Christmas with his family and friends. But when things don't go exactly as planned, Penguin learns to find holiday magic in the most unexpected places."
In Penguin's Christmas Wish,  Salina Yoon shows both child and adults that the magic of Christmas is not the presents, but sharing time and beauty with friends "far and wide." Fans of the Penguin series will be delighted to know that a lot of the characters from previous stories are in this story. The important message and charmingly illustrations will surely delight children even if they have not read any of the others books in the Penguin picture book series.
What are some of your family's most loved Christmas books? What are some books you remember reading as a child?
Raincoast Books is an award-winning Canadian book distributor based in Vancouver, British Columbia. We're a fast, friendly, and efficient company with a unique west-coast sensibility.
Website:http://www.raincoast.com