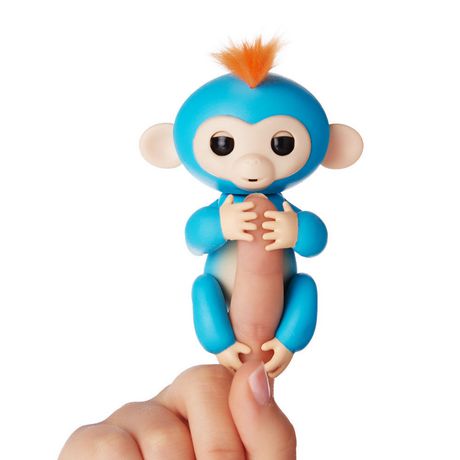 Last Christmas, the hottest toy was Hatchimals. You were lucky to find one on the shelves. This year, Fingerlings is the hottest Christmas toy of the year. Hailed a top toy for the 2017 holiday season by the nation's biggest retailers, Fingerlings™ are adorable, mini interactive pet robots that curl around your finger and come to life when you play, responding to sound, motion, and touch with over 40 animations.
I am sure by now you have heard all about them. Fingerlings have already sold out at major retailers across Canada. According to the NPD Group, WowWee, was the second-fastest-selling toy in September of this year.
If you are a parent scrambling to get your hands on one, be careful as there are many fake counterfeit fingerlings. WowWee recently filed a federal lawsuit against nearly 200 businesses allegedly selling fake versions of Fingerlings.
In a news release, WowWee CEO Richard Yanofsky said "We are so proud of this new toy line, and want to make sure our customers can buy with confidence, without fear of purchasing harmful or illegitimate items."
Marketplaces including eBay, Amazon, and Walmart.com are swamped with fake Fingerlings shipped directly from China. With both Amazon.com and Walmart.com, make sure you buy directly from Amazon or Walmart and not from a 3rd party.
Twitter users have complained about mishaps with their Fingerlings orders.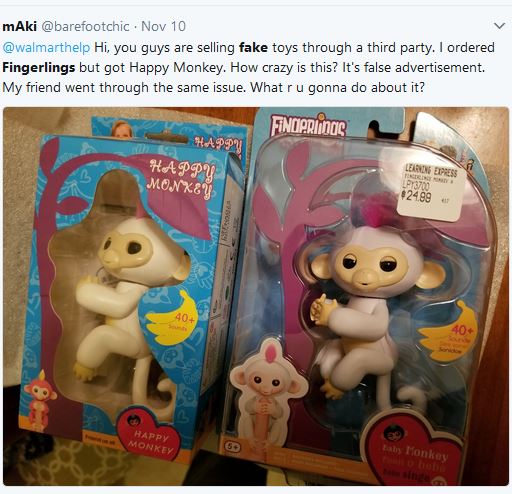 One Twitter user purchased Fingerlings for Christmas two months ago from what turned out to be a a third party seller through Walmart.com and is still trying to get a refund.
HOW TO TELL IF YOUR FINGERLING MONKEY IS REAL:
The first step is to buy from authorized distributors. Make sure the item clearly says WowWee. Watch for spelling mistakes in the description, the improper use of the Fingerlings brand name (e.g. Happy Monkey, Fun Monkey, Finger Monkey, Baby Monkey, etc.), prices that are unusually low or priced really high, and other details that seem suspicious, such as products with plastic hair or low-quality packaging and products. One glance at Amazon and you can see all the fake Fingerling Baby Monkeys out there. To confirm the authenticity of Fingerlings™ products or report counterfeits to WowWee. The company encourages all consumers, wholesalers, and retailers to request help through WowWee's Customer Support center.
Where can I buy an Authentic Fingerling in Canada?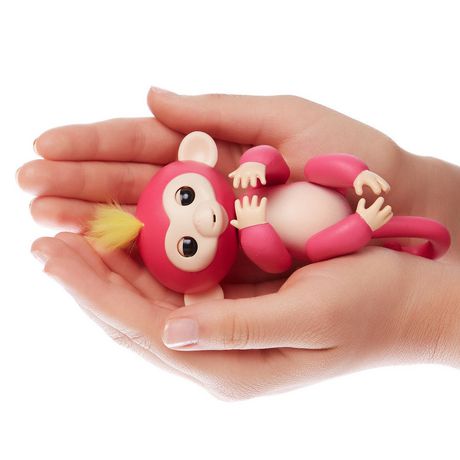 According to the wowwee.com website Indigo Books & Music Inc, London Drug Limited, Mastermind, Showcase, The Hudson's Bay, Toys R Us Canada, Walmart Canada, The Shopping Channel and Amazon.ca (sold and shipped by Amazon.ca only) are authorized Fingerlings distributors in Canada.
If you are buying from a retailer that isn't on that list, chances are excellent that it counterfeit. As of today's publication date, I found some in stock at Mastermind Toys, but call your local store to confirm.
Whenever possible, sign up for email alerts that let you know when Fingerlings are in stock. Walmart offers this option. Also, check stores in person regularly to see if more supply has come in.
Watch out for websites like Kijiji Classifieds and Facebook yard-sale groups in your area where there are Fingerlings for sale. Unless the user can provide you with a proof of purchase receipt, I would avoid the purchase.
Where can I buy Fingerlings?
In the United States, the list includes Toys R Us, Walmart, Target, GameStop, and Best Buy. There are several other authorized Fingerlings distributors in the US and you can get the full list at: Authorized Retailers in USA and Canada.