Valentine's Day will be here before you know it. It is the perfect opportunity to do a little something extra special for the child(ren) in your life.
Start their morning off right with some heart-shaped blueberry or chocolate chip pancakes.
Is your child handing out valentines to their class mates? Often times a treat is given along with the valentine.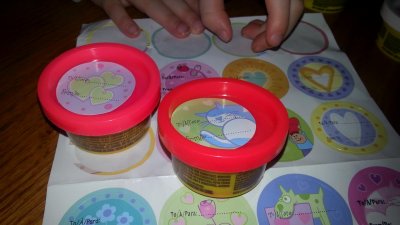 Save your child's classroom from a major Valentine's Day-induced sugar high, and gift play-doh instead.
Each bag you purchase contains 15 cans of pink, white and red PLAY-DOH modeling compound. Also included is a sticker sheet with 15 stickers to be placed on the leds for writing to and from on.
We think these small tubs of play-doh are the greatest. They would also be perfect for daycare workers to hand out to the children they watch.
You may not be able to spend the entire day with your child, but you can make your presence known at lunch hour by tucking a Yo-kai Watch Series 1 Medal Mystery Bag, or a My Little Pony Figurine into their lunch with an I love you note.
Make your child's favorite meal for dinner and for dessert, have them join in by making some cupcakes with red or pink frosting.
After dinner and dessert is done take the time to play some of your favorite Hasbro board games with the children. With so many Hasbro games, the possibilities for Hasbro Game Night are endless!
Whatever way you decide to celebrate Valentine's Day with your kids, make it a memorable one.
We have been playing with an amazing batch of Valentine play-doh that's always good for

open-ended play and imagination-building. I gave my daughter a new set of heart-shaped cookie cutters, which were not too difficult for her to effectively use on her own.  She even enjoyed making a snow man, all dressed up for Valentine Day.
We would like take this time to wish you and your family a fun filled Valentine's Day from Today's Woman and Hasbro!
Don't forget to send a Valentine's Day card to your adult child(ren) as well.
How do you plan to celebrate Valentine's Day with your child(ren)?
Hasbro, Inc. (NASDAQ: HAS) is a branded play company providing children and families around the world with a wide-range of immersive entertainment offerings based on the Company's world class brand portfolio. From toys and games, to television programming, motion pictures, video games and a comprehensive licensing program, Hasbro strives to delight its customers through the strategic leveraging of well-known and beloved brands. Visit hasbro.ca.