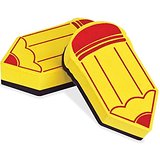 The whiteboard, since its invention has come a long way. Today. it is one of the most common fixtures in schools, universities, hospitals, as well as at home. My son and eldest daughter make use of a white-board, but for different reasons. My daughter is living with a traumatic brain injury, as a result from a 2014, ATV accident. Therefore, she uses a whiteboard as a memory aide. The large whiteboard in her bachelor apartment is where she stores my phone number and weekly appointments.  Yet my son, who is a university student uses his whiteboard, as a monthly calendar for work and school.
Whiteboard Accessories
The most popular & widely used writing utensil for white boards is normally the dry erase marker. While the dry erase marker is suitable for any type of whiteboard, the Dry Erase Pens from "The Pencil Grip"  are ideal for detailed writing. They easily erase with a dry cloth or felt eraser. Choose between a set of four fine point pens in different colors or a package of four fine point pens in black. My daughter wanted something with an extra fine tip for writing on her board and these were perfect. They write legibly, which is a big deal for her and the ink is easy to wipe clean with a dry eraser.
"The Pencil Grip" carries a line of dry erasers that are perfect for both lap whiteboards and larger whiteboards. Sized right for tiny hands, children will love the
fun designs and bright colors of an apple, race-car, school bus and pencil. Each package includes 12 dry erasers. Even my eldest daughter loves the apple erasers.
The Classics Magnetic Whiteboard Dry Eraser is  lightweight and long-lasting with a magnetic surface that sticks to all metal whiteboards. These 2 x 2 inch dry erasers clean easily with soap and water and come in a package of 12.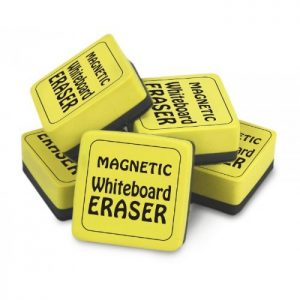 Pencil Grip offers a variety of dry erase board accessories including dry erase markers, dry erase erasers and a complete dry erase kit.

Purchase Pencil Grip products via Amazon or through thepencilgrip.com.
To prevent marker buildup on your whiteboard surfaces, you should occasionally clean your whiteboard with whiteboard cleaner. Replace your Dry Erase Markers or pens every 6 months. Do not use tape on whiteboards or use a permanent Marker. Be sure to keep them away from your whiteboard.