Shop outside of the big box this upcoming holiday season and give the child on your list the gift of learning. Recommended for children 4 and up, learn to draw books feature easy-to-follow instructions, examples, and space for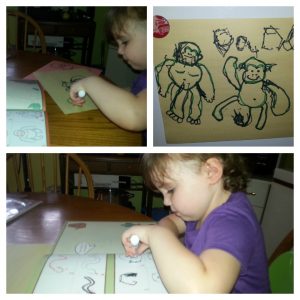 doodling. From princesses to Christmas theme books, from  trucks to T-Rexes, they're several books to choose from. Children learn to draw by tracing helpful outlines, then by following the step-by-step illustrations.
Kids can then use their new skills (and imagination) to draw in colorful background scenes throughout the book! Even kids who don't think they can draw will get into the swing of things with these Learn to draw books.
We own the animal learn to draw book, which teaches my daughter how to draw horses, lions, bears, penguins, monkeys, dogs and more. She is not quite 4 yet, so the book is a bit advance for her, but she has had fun tracing the animals.
Tracing reinforces fine motor skills  and prepares her for writing and drawing. There is plenty of room in the book for drawing, though I have been using loose leaf paper for her to practice on. This is a great activity for fine motor control, and a great exercise in preparing her for drawing and printing on her own. Even I have been making use of the book. It is to be said that this mom is no Picasso. Mom or dad can also draw part of the picture and encourage children to complete the other half.
LEARN TO DRAW…CHRISTMAS
Drawing a snowman doesn't seem that hard with step-by-step circles that turn into a Snowman. In Learn to Draw Christmas,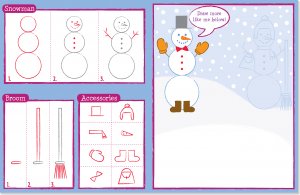 Kids learn to draw Reindeer's, Elves, Snowman and more.
Preschoolers can start drawing a snowman by tracing different size cups.
Peter Pauper Press "Learn to Draw" Christmas would make a great Christmas gift or a perhaps a countdown gift to get kids into the holiday spirit. It's not even Dec 1st and we are already drawing snowmen.
With creativity and confidence it won't be long until my budding young artist will be drawing on her own thanks to Peter Pauper Press series of Learn to Draw books.
LEARN TO WRITE
In kindergarten, children learn to trace and form letters and numbers, so the preschool years is a wonderful time to strengthen small muscles, develop fine motor control, and improve eye/hand coordination.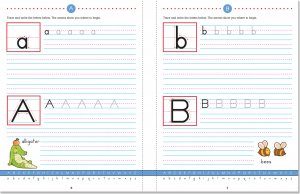 Tracing letters is an easy way for children to learn to write and is an important precursor to freehand writing. In the activity book "Handwriting- Learn to Print,"  kids trace the letter- for example A. They then proceed to printing the letter themselves. Pages contain both capital and lowercase letters. The book also contains words beginning with all the letters of the alphabet, sentences to copy and a place for your child to write their name.  The book also features guides for writing the names of months, the days of the week, and numbers from 1 to 10. The full color pictures will appeal to young children, while the detail book will delight parents.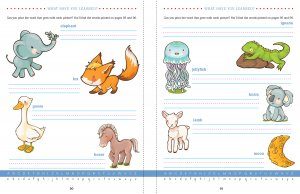 The book is a wonderful kindergarten learning book, as it reinforces skills children are already beginning to learn.  My daughter is still in the beginning stages of learning to print. She has really showed an interest in writing.  Right now, we are practicing tracing lines, zig zags, circles and curved lines. Therefore, we found the " Handwriting, Learn to Print Book" to be too advanced for her right now.  Nonetheless, it will be an ideal learning tool, next summer, as we further prepare her for Kindergarten.
Pre-Writing Skills Tasks
There are a number of pre-writing tasks that you can use to encourage and support a child in their pre-writing skills. These include:
Tracing shapes and patterns
Dot to Dots
Pattern writing
Copying lines
Drawing
Writing is a skill that most people use every single day. Even as we move to a society driven by keyboards, kids still need to learn to write by hand. Peter Pauper Press Learn to Books are a great way for your child to practice core concepts and skills. Their learn to book contain kindergarten activities, which can help younger children learn how to print and draw or help refine skills already mastered.

Are you homeschooling your kindergartner? Do you have a preschooler that craves a little more when it comes to learning? Check out Peter Pauper Press for the Learn To Draw Books and other kindergarten learning activities that would make great Christmas gifts.
PETER PAUPER PRESS, founded in 1928, is one of America's leading publishers of fine gift books, humor books, compact references, travel guides, unique journals, quality stationery, holiday cards, and innovative children's activity books.
Website: http://www.peterpauper.com