Now, with the rise in popularity of adult coloring books, there are a whole lot of adult coloring books available including Christmas Coloring books for the holiday season. Whether you're already a fan of coloring or new to it, you'll love this Christmas themed adult colouring book from Peter Pauper Press.
Christmas Themed Adult Colouring Book Review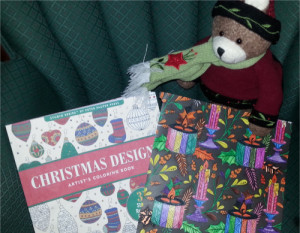 The Christmas Designs Coloring Book features 31 full-page illustrations to color, perfect for colorists both young and old. This book, like other coloring books from Peter Pauper Press features illustrations on heavy paper.  In case the heavy paper isn't enough for you,  each illustration is printed on just one side of the page. Therefore, eliminating any problems with bleed-through.  Though my daughter tells me that pencil crayons do work better when coloring the book then using markers.

The books illustrations are in a free, hand-drawn style. The clear black lines are not hard to follow.. However, my daughter does find the patterns have much detail, and are visually complex. She prefers less intricate detail. This may be something to keep in mind if you too are looking for a book with less detail.
Each page of the Christmas themed adult colouring book has small perforations that make it easy to remove the images and make them into framed pieces,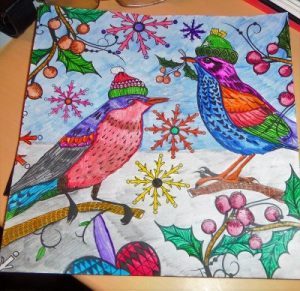 refrigerator adornments or use them for scrap-booking crafts, or to wrap Christmas gifts as my daughter suggests. Marisa uses Coloring Books to upcycle into lovely crafting ideas! See her post at Five Ways To Upcycle Colouring Books. As a bonus, the paper is acid-free.
She has been using the adult Coloring Books from "Peter Pauper Press" as part of her traumatic brain injury rehabilitation. She owns a few, with this one being her newest addition to her ever growing collection of adult coloring books.
"For me coloring has been very soothing, allowing me to deal with anxiety," said Megan. "For me, coloring is a form of meditation." Megan states that she never really listened to classical music, but pairing classical music with coloring gives her focus and seems to change her mood.
These adult coloring books not only serve to help someone, such as Megan take part in a relaxing activity they are also enchanting works of art, unleashing one's own creativity.
Get in the Christmas spirit with this fun Christmas themed adult colouring book filled to the brim with holiday patterns, festive doodles, and Christmas scenes.
Adult coloring books also make great Christmas gifts. With a coloring book and nice set of professional colored pencils from Peter Pauper Press, you have the perfect gift.
Peter Pauper Press offer a wide selection of art supplies for home, school or office.  Christmas is right around the corner. We have added the "Studio Series Watercolor Crayon Set" and "Roll Up Canvas Pencil Wrap" to our Christmas wish list.
Shop: http://www.peterpauper.com/                      
Have you tried your hand at adult coloring books?