Whether your child is headed off to college for the 1st time or back for a 2nd, 3rd or last year, there is no doubt that they will have their laptop with them. According to research, a laptop is stolen every 53 seconds. 1 in 10 individuals will have their laptop stolen at some point. With stats like those you want to do everything in your power to avoid becoming a victim of theft.  Something that's often missing from the back-to-school shopping list is security products. It's important to ensure your child's electronics stay protected. Masterlock wants to help keep students valuables safe and secure this school year by providing laptop security safes, laptop locks and some safety tips.
Laptop Locks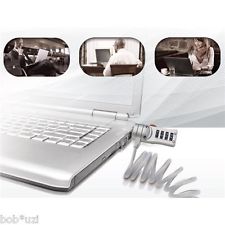 Ideal for campus, travel or home use, the 2120D SafeSpace Laptop Lock is perfect for securing your laptop or net-book.  Its strong, self-coiling cable extends from 3 inches (76.2mm) to 6 feet (1.83m) allowing you to walk away from your computer, but preventing someone from walking away with your laptop. It also offers users ultimate personalization with more than 10,000 numeric or alpha combination possibilities. Both the 2120D and 2120DWD SafeSpace Laptop Lock models retail for $19.99.
We tried it at home with our laptop and found it real easy to use.  Simply loop the cable around something secure and then insert the lock through the loop end and then into your computer's built-in lock slot.
Top laptop safe for college dorm rooms
Having your laptop stolen can be devastating, especially if you have important documents and files on its hard drive, without a backup. Dorm safes are among the top dorm essentials and are fast becoming very popular among students.
Don't worry, they don't need an expensive, huge heavy safe; all they need is the  SentrySafe PL048E Portable Laptop Safe. It is large enough for them to store all their personal valuables into.  It features a tethering cord, so your son or daughter can place it in their dorm room and tether it to a secure location. And best of all, it is portable. The safe also features a programmable electronic lock with override key. Be sure to choose a password that you will remember.
Masterlock states that the SentrySafe  fits most standard laptops, notebooks which range around 15.5 ". However, I use my SentrySafe with a 17.5" Toshiba Satellite Pro and there is tuns of room to store not only my laptop, but even my tablet and Android smart phone away from my preschooler. Have you ever had a toddler remove the laptop keys from your laptop? It is not fun, I tell you. You can say that this dad learned the hard way.
Do I feel my Laptop is safe in the SentrySafe from damage if I was to say drop it?
The SentrySafe Laptop Case has a foam lining to insure my gadgets don't get bounced around causing chips or broken screens.
Mini safes for Electronics
The Safe Space "Security on the Go" Safe, is a dependable must have. This mini safe is the perfect place to lock up your Cell Phone while you're at the gym. You can also use it to store your keys, and other devices while you run to class. Its multipurpose, built tough, and affordable. The oval-shaped, foam-lined case features an integrated cable that can be securely anchored to a fixed object or used as a handle for convenient carrying.
Master Lock is a product that we have been using in our family for years. Throughout our kids high school  years they were one of our top choices for Back to School Combination locks.
Master Lock Back-to-Safety Tips
Master Lock has these "Back-to-Safety" tips to help keep students and their valuables safe and secure this school year.
Familiarize Yourself With Your School: Your first day in a new environment can be overwhelming. If possible, head to campus or your school building prior to the first day of classes and find your classroom, test your route to class and explore the campus or facility. It's important to learn the buildings' exits, emergency protocol and evacuation plans and the location of the nurse's office or school health center so you can be prepared for the unexpected.
Use a Trusted Locker Lock: Perfect for lockers, Master Lock's innovative, technology-based Indoor Bluetooth Padlock (4400D) is operated by a Smartphone versus a combination or physical key. Not only does the product appeal to tech-savvy students, but also to parents who are concerned about their child forgetting their locker lock's combination. The product has an award-winning design and is feature-rich, allowing authorized users to control their padlocks, monitor the padlock's activity and share digital keys. Equally innovative, the 1500iD Speed Dial™ Set-Your-Own Combination Lock which opens with a combination of directional movements, is easy to use and comes in four vibrant color options (red, purple, blue and black).
Secure Your School Supplies: School bags and gym bags include important school documents, personal information, homework and valuable items, such as smartphones, laptops, tablets and money. Attach the easy-to-use Master Lock 1550DAST Backpack Lock, which comes in four bold colors to help identify your bag. Or, use the versatile Master Lock 1548DCM Set Your Own Combination Padlock. This added layer of protection will help deter possible theft and provide peace of mind. Therefore, you can worry less about your belongings and focus on enjoying the school year and extra-curricular activities.
Add Safety Precautions to New Living Quarters: For those living on college campuses, dorm living is an adjustment. While it may be fun to pop in and out of your neighbor's room to study or watch TV, it's important to remember that all your possessions, such as electronics, remain in your dorm room even when you are not. Keep your valuables securely stored to help protect against theft and other vulnerabilities. For smaller electronics, such as cell phones and MP3s, use the Master Lock 5900D SafeSpace portable mini safe. For your laptop, consider the SentrySafe PL048E Portable Laptop Safe.
Protect Your Laptop
Losing your laptop is bad, but losing it with all of your important files on it is much worse. You don't want your data to end up in the wrong hands. Therefore, you should probably invest in a physical external hard drive. You don't have to back up your laptop every 5 seconds. But, it is a good idea to back up the machine once a week.
About Master Lock
The Master Lock Company is the authentic, enduring name in padlocks and security products. Master Lock Company offers a broad range of innovative security and safety solutions for consumer, commercial, and industrial end-users. Master Lock Company LLC is an operating unit of Fortune Brands Home & Security, Inc., a leading consumer brands company. Headquartered in Deerfield, Ill., Fortune Brands Home & Security Inc. (NYSE: FBHS), is included in the S&P 500 Index. For more information about Master Lock visit www.masterlock.com.