In a recent GFK study, 44% of Canadian parents in the 25-to-34 age group (often referred to as Millennials)  plan to spend more on back-to-school shopping in in 2016, then in previous years.  With spending rising in Canada, you may be feeling stressed about getting everything your child needs for back to school.  Shop Giant Tiger first to save money on back to school shopping. Whether it's shopping for a backpack,  a back-to-school wardrobe, school lunch supplies, or even a box of tissues for mom, Giant Tiger has you covered!
Back to School Must haves
Licensed Character Backpacks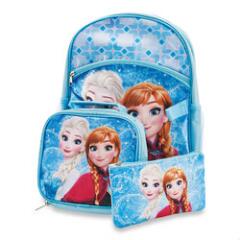 Backpacks are the #1 essential for school. A backpack leaves with your child in the morning and stays with them until they get home. It's essential for holding supplies, books, and lunch. It's no surprise that kids prefer picking backpacks that show off their personality and interests.
While my daughter doesn't necessary need a new backpack this year, she did show an interest in the Frozen back pack set from Giant Tiger.  The three piece set features Elsa & Anna. The set includes an all-in-one backpack, lunch bag and pencil case. For $22.99 this is a real saving. Choose from Frozen, Spiderman, Secret Life of Pets, Finding Dory and more.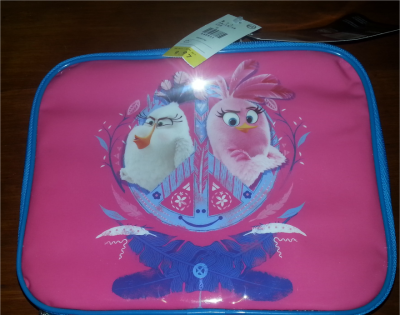 Licensed Lunch Bags
While a lunchbox wasn't cool when we were in school, it's a necessity now for kids who stay for lunch. Add extra fun to lunchtime with a licensed lunch bag from Giant Tiger. Licensed lunch bags are just $9.97 and we found them to be very roomy. While my daughter doesn't use a lunch bag yet for pre-school, she does use a bag to store her little toys.
Shop for Less at Giant Tiger
Here are just a few of the great deals you will find this week:
 A 4 pack of 32 page Canada exercise books. $0.39
10 pack of Bic crystal pens $0.99
Dixon Pencil – 10pk- $1.99
Crayola Pencil Crayons – 24 pack- $4.97
Twin Hole Pencil Sharpener- $1.50
Scientific Calculator- $5.00
Glue Stick 2-pk. with Bonus $1.50
Off to College?- Get Dorm Ready
For College-bound students, mom can shop for all those dorm room needs at Giant Tiger. Just look at these savings.
Lap top table $25.00
Three Tier Bookcase $18
2 drawer cabinet $29
Kitchen trolley $69
Proctor Silex Single Serve Coffee Maker- $29
Sunbeam 7 piece cookware set $29
Be sure to check out the "Giant Tiger Back to School Dorm Look Book" and save on tablets, laptops and more.
From Aug 17th to the 30th save 15 % on kitchen appliances, furniture and mattresses when you use the promo code: Back2Dorm. ( This offer is valid online only.)
If you've never done your back-to-school shopping at Giant Tiger – now is the time to start! Remember, Giant Tiger doesn't close once school starts. You can always go back for anything you may have missed!
It's really a no-brainier for me to shop weekly at Giant Tiger to pick up grocery- sale items, as well as housewares products and to shop for clothes for my daughter.
Win up to $1,000 Weekly in Giant Tiger Gift Cards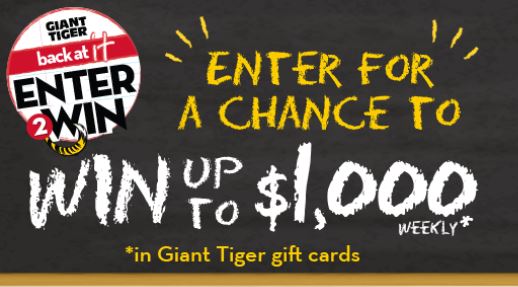 To make the 2016 back-to-school experience even more exciting, Giant Tiger is hosting a back-to-school " contest, featuring weekly grand prizes of $1,000 in Giant Tiger gift cards! Enter the Giant Tiger giveaway now!
What are your" must haves" when shopping for back-to-school?
About Giant Tiger

Giant Tiger is the leading Canadian owned family discount store, committed to providing on-trend family fashions, groceries and everyday household needs. Known as Canada's best kept secret the privately held company has over 220 locations across Canada and employs over 8,000 team members. All Giant Tiger locations are locally owned or operated by a team member who knows the community. The friendly stores with the iconic yellow logo are not only where Canadians shop more and spend less, but also are proud to be known as retailer of choice. #foryouforless.
Website: http://www.gianttiger.com