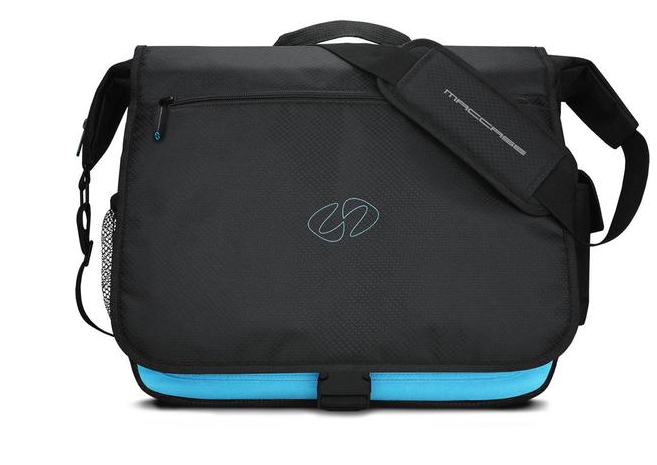 Next to a laptop, a laptop bag is one of the most important purchases a post secondary student will make. A good laptop bag needs to get them through the school year. A lot of factors go into shopping for the right laptop bag. The ideal candidate will not only protect their laptop, but will also feature a high storage capacity, good compartmentalization, and of course, style. Our top choice is the Universal Laptop Messenger Bag from MacCase.
The company has a reputation for making quality products, and this laptop messenger bag is no exception. Finished in a dual textured, black exterior with a hint of bright cyan blue, this Universal Messenger Bag combines laptop + tablet storage in a bold, lightweight, feature rich, messenger bag style. The bag is perfect for students going to and from class.
Laptop Bag Features
Made form nylon and polyester the bag has a heavy duty 50mm adjustable shoulder strap with non-slip pad. Other features include 11 pockets and compartments, twin hidden tablet compartments that are accessible without opening the main flap. There's also a top carry handle and a side mounted pocket for your water bottle.
The bag is roomy enough for not only ones laptop, but their tablet, cell phone, chargers, adapter, etc. There is also plenty of room for ones notebook, pens, external hard drive, wallet and even their lunch. Furthermore, the full width main compartment zipper provides outstanding protection from weather elements students' face going to and from class.
The laptop bag also features a radical white and cyan blue interior. This makes finding items inside the bag a lot easier.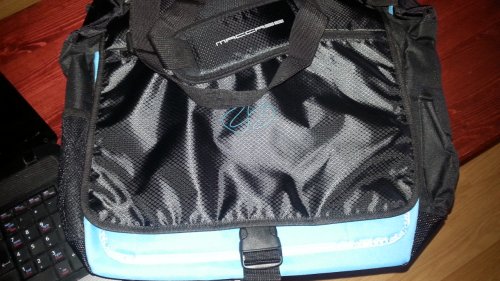 The messenger bag is said to hold any laptop up to 15.4″. However, my husband's 17.5 inch laptop fits into the bag with no issues. Even though he uses the Universal Messenger Bag to lug around a laptop, a tablet, a water bottle, cell phone, all of his chargers, adapters, external mouse, and a laptop lock, the bag still feels light.
If your student wants to make an impression on the first day of college, then the Universal Laptop Messenger Bag from MacCase is a good place to start. It is also the perfect bag for internships, next to the "MacCase Premium Leather Laptop Messenger Bag" that my Queen's University bound son has been eyeing.
About MacCase
MacCase invented the Apple specific case market in 1999. The company offers two distinct products lines, one in nylon and one in leather that consists of a broad range of cases, messenger bags, sleeves, folios and backpacks for Apple MacBook, MacBook Pro and iPad models. You can purchase MacCase products at MicroCenter, Walmart.com, Staples.com, OfficeDepot.com, MacMall, Airport Wireless, Shoebuy, Technology Showcase, and Ebags. You can also purchase MacCase products directly via the company's website. www.mac-case.com.