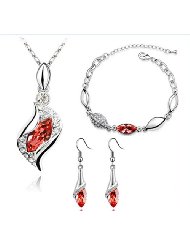 You chose your appropriate red dress for the upcoming Christmas season. Now you are left with one last important task before your outfit is complete. You need to choose the right jewelry to complement your dress! Keep your accessories minimum to make your red dress and you the center of attention.  The  RuSong Fashion Jewelry Set from Amazon pairs sparkling rhinestone flowers with matte crystal on a gracefully curving silver vine. The ruby red crystals on the set will surely accentuate the beautiful red hues of your dress!
Fashion Jewelry Set Review
I just bought the set for my daughter for this upcoming Christmas to accessorize her red dress. The set arrives in a lovely box perfect for gift giving. The necklaces measures 17 inches long and you easily adjust it for prefer fit. The chain is shorter than I would have preferred. You can easily extend it to a 20 inch chain with a chain extender. I like that both the bracelet and necklace have lobster style claps for easy opening.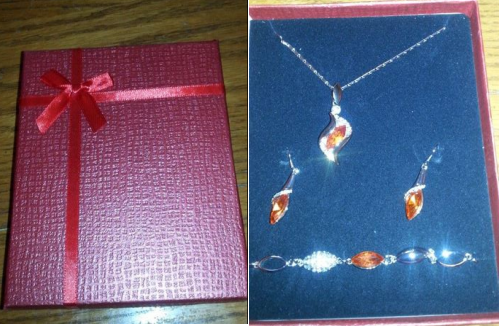 The coordinating bracelet measures 8″, and the delicate floral earrings are 1″ long. You too can adjust the bracelet to fit your wrist. I found the bracelet to be very lightweight and dainty.
The earrings are basic drop earrings with a plastic backing. Dangling earrings are an elegant addition to nearly any dress, but they look particularly good with a red dress and an upswept hairstyle.
Potential customers should keep in mind that the set is plated, so it may very well tarnish with time. To keep the life of the set, you should not use any harsh chemicals to clean the set . And be sure to remove the bracelet when using household cleaners, hand cream, and perfume to prolong the life of the set.
Overall, this is a very elegant set with enduring quality for a Costume jewelry set. It is currently on sale for 60 % off the original prize.  It would make a wonderful Christmas gift. Be sure to check out other jewelry pieces from RuSong.