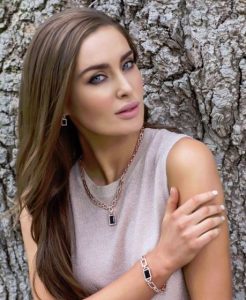 With a new season already upon us, we're all looking to give our wardrobe a little update. Jewelry is the easiest way to take an ordinary outfit and make it outstanding.

This seasons collection from Absolute Jewellery boasts an extensive range of stunning yet affordable jewellery pieces. From long chains that you can team with shorter statement coin necklaces to charm bangles that are crying out for your to stack them high, to 'pretty pearls',   you are sure to find a piece of jewelry regardless of your age, budget or style.  All jewellery is rhodium or gold plated and is set with pearls, semi precious stones and Swarovski elements. If you don't own a piece of Absolute Jewellery already, let it be your next purchase.
Let's look at the latest trend in the jewelry industry?
Jewelry Trends from Fall 2016

Gold cuff bracelets continue to be a hot jewelry trend for the 2016 fall/ winter season. Make a statement wearing this Rose Gold plated wide cuff bracelet with hollowed out design. Pair it with any ensemble for a polished look.
Sterling silver bangle bracelets are a great wear for any occasion, and they are very flexible, too, meaning, they can blend well with any attire. This bold spring hinge silver cuff bracelet features four crystals lined along the top.  You can wear it alone or mix and match it with other bracelets and bangles.
There's been a lot of hype for pendant necklaces recently and for good reason. They bring an unexpected edge to any modern fall outfit. Absolute Jewellery carries a wide selection of  pendant necklaces. One of my favorite pieces features a coin pendant, with an intricate tree patter. The Absolute Tree Pattern Pendant is perfect for the office, or a night on the town. It would also make a lovely gift. It's not too early to think Christmas!
Coin Necklaces are a must have fashion piece for this season. Whether you prefer gold, silver or rose gold, Absolute Jewellery has a coin necklace for you.
Choker necklaces have seen a huge resurgence in popularity.  While the choker has regained its stranglehold on fashion, I have yet to accept the trend. I still love my long necklaces.
This pass summer I attended my very soon to be daughter-n-law's bridal shower. I opted to wear a top with feminine floral.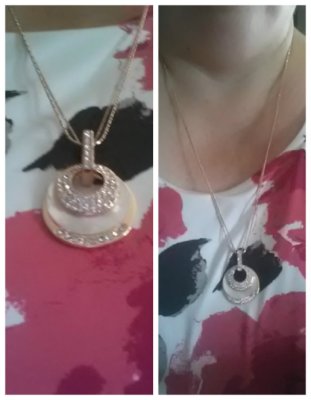 Accessorizing a floral top or dress can be a bit difficult,  as floral print outfits on there own are attractive. I chose to accessorize with a 26′ inch rose gold necklace from Absolute Jewellery. This double chain with three pendant necklace is perfect for this fun-loving fashionista who can never pick just one necklace. I received so many compliments on the necklace that I just had to rave about Absolute Jewellery.
The necklace instantly dresses up my laid book look as well and adds luster to even the basic of outfits.
The Absolute Story:
Born in the imagination of an 18 year old girl from a rural community in Ireland, this distinctive brand has evolved from a small cottage industry into one of the leading costume jewellery brands in Ireland and the UK. Routinely featured on Irish television and in European fashion magazines Absolute Jewellery is revered by women of all ages for its beautiful and elegant designs at affordable prices.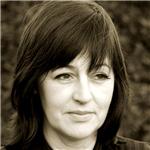 The proprietor, Arlene Nee, hails from a small town in rural Ireland. After finishing her secondary education she started working in a gift shop in her local town. It was there that her passion for jewellery design was ignited. It was during this time that Arlene started to dream of her own business, one in which she could bring the latest European fashion to the women of Ireland at a price that all could afford.
As demand for her product increased she gained confidence in her understanding of the market and in 2003 she began creating her own designs. "I was inspired to create something unique and elegant, a product that celebrates the beauty and strength of the many amazing women I have met on my journey". It was then that Absolute Jewellery was born.
Arlene continues to travel the globe sourcing unique components to produce her popular collections which are well known for their creative designs and meticulous attention to detail.  She continues to develop her brand by working with international designers to bring unique designs at affordable prices to the consumer. Absolute Jewellery is continuing to expand its market presence and today the brand is stocked in more than 300 retailers across Ireland and the UK.
Arlene has an eye for detail. Therefore her passion for creating jewellery shines through every piece. Since creating the Absolute Jewellery brand, Arlene has begun working with designers internationally to bring her collections to her consumers at an affordable price. You can find  the Absolute Jewellery line at http://enescocanada.com
What are you waiting for? Step into the spotlight with this season's trends from Absolute Jewellery and get ready to look your best!
What is your favorite upcoming fall trend?