She is the woman who loves you unconditionally, the one who puts you before herself and the one who you can always count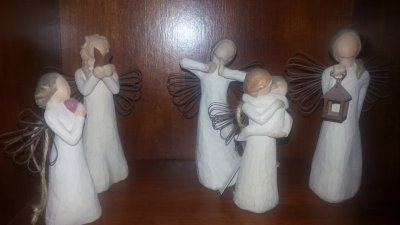 on. She is your mother and the meaning of being a mother is virtually endless. Perhaps one of the most popular collections that signify the role between mother and child is the Willow Tree collection.
Willow Tree figurines make magnificent Mother's Day gifts. Willow Tree is an intimate, personal line of faceless figurative sculptures representing qualities and sentiments- many pertaining to motherhood. Since the first Willow Tree figurine was created back in 2000 their popularity has grown.
I have gathered together some of my favorite Willow Tree figures. Many of which are part of my collection and perfect choices for Mother's Day.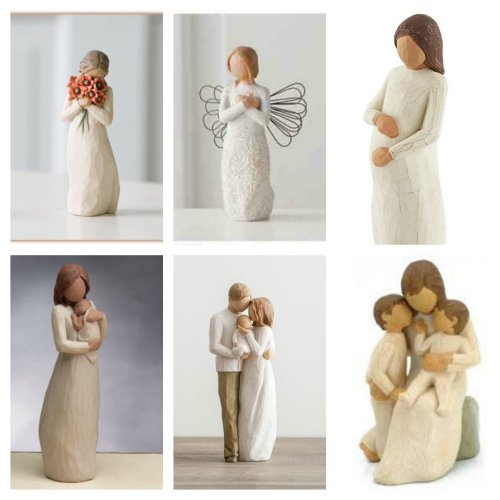 Surrounded By Love Willow Tree was specifically created in 2010 for Mother's Day to let moms know, "Abundant Love Surrounds You." The figurine features a woman adoringly clenching a beautiful bouquet of flowers—perhaps with every flower representing each of those whom she holds close.
Is your wife perhaps mourning the loss of her own mother this Mother's Day? From Willow Tree comes the "Remembrance Angel". It includes a gift box and a sentiment card that reads: "Memories… hold each one safely in your heart."
She is waiting the big day, preparing for the birth of her child and getting ready to welcome her little one into the world. Help her celebrate this amazing time in her life with the Willow Tree Cherish figurine, depicting a pregnant woman contemplating the child that is to be. Sentiment on enclosed card reads: "Awaiting a miracle."
For a gift from new dads to new moms, the "Our Gift" figurine shows the wonder of adding a new child to the family. It shows a mother and a father embracing their new child with love and tenderness. Your wife's first Mother's Day is a day that should be celebrated and treasured, and this figurine is the perfect keepsake. "Angel of Mine" also celebrates the miracle of new life and is the Perfect Mother's Day gift for New Mothers!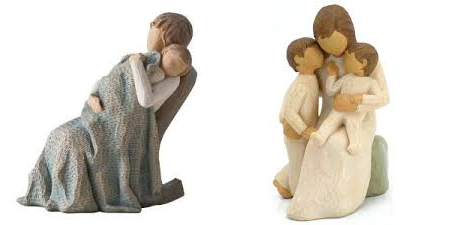 A mother/grandmother and child enjoy time together in a rocking chair under a quilt. The saying is"Sleep my child and peace… peace… Covered in love and keep… keep"
A great option for moms with two children, the Quietly Family figurine shows a mother holding her two small children close as they fall asleep. The card reads, "Quietly encircled by love.
Families come in many forms, and this Willow Tree figurine celebrates families that are built on love. Child of my Heart speaks to foster moms, step mom and moms of adopted children. Sentiment on enclosed card reads: "Child of the world, into my heart you came – Bringing sun into my life, Making family our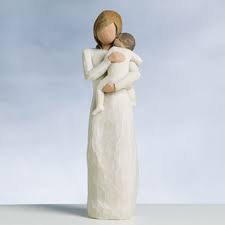 name." My youngest daughter is adopted and I received "Child of my Heart" at Christmas from my husband. It is perhaps one of my most cherished Willows.
The Tenderness Family figurine depicts a mother holding her child, gazing lovingly at him. The card reads "Treasuring a rare, quiet and tender moment of motherhood." This figurine is perfect for any mother – no matter what age her son is now – on Mother's Day.
>Another figure showing that special bond between mother and son, and my personal favorite is Willow Tree mother and son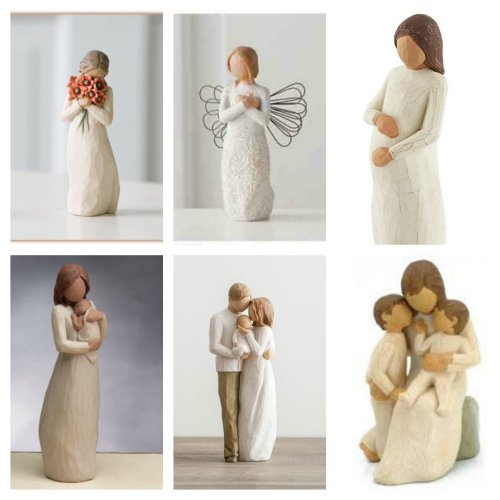 personal figure. Resting his head on his mother, the Willow Tree Mother and Son Family figurine stands at 8 inches tall and reads "Celebrating the bond of love between mothers and sons."
I added this Willow to my collection last Christmas. My son proposed to his girlfriend of 4 years in October. They are to wed October 2016. Though he is a grown man, he will forever be my little boy. I think all mothers of adult sons can relate.
"A chrysalis is the protective covering in which a caterpillar develops into a butterfly. The title is a metaphor for the relationship between a mother and her teen-age daughter — a time of letting go, in support of emerging independence.
I recently added "chrysalis" to my collection as the description for this piece speaks to the relationship between my eldest daughter and I.
The WillowTree "Close to Me" Figurine is an incredible keepsake gift to celebrate the bond between mothers and daughters. The figure depicts a mother and daughter in a loving embrace. The message with this item says "Apart or together, always close to me."
In 2014, I added the "Close to me" figure to my collection. The piece was gifted to me by my husband following our oldest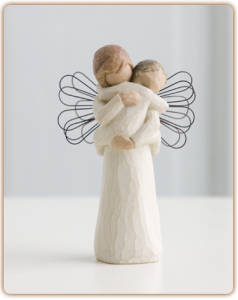 daughter's accident. For Susan the inspiration behind the piece came to her following her daughter's move to France. It was a personal message to her daughter, that regardless of whether they apart or together, she's always close to her.
Angel Embrace by willow would be the idle gift for any mother who has lost a child. The card that comes with the Willow Tree Angel's Embrace figurine reads 'Hold close that which we hold dear.'
I was introduced to Willow Tree figurines a few years ago when I received a figurine from my son as a Christmas gift. I have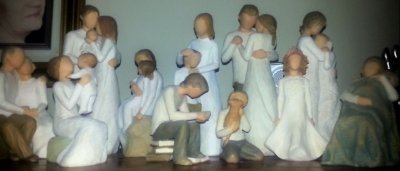 been hooked on Willow Tree ever since, now having 25 willows in my collection. I regularly search for any and all newly added items to the Willow Tree family of products. It's amazing how such a simple, yet gorgeous piece of art can express so much.
I appreciate the way that Susan Lordi has created her Willow Tree figures, leaving the interpretation of each individual sculptured piece open, allowing us to decide for ourselves the intimate, personal meaning of each figurine or grouping.
The Willow Tree figurine collection is timeless and can each carry mom's own story with her for years and years to come. Whether you're celebrating your mother, your wife, a new mother, or your grandmother this Mother's Day, there's a Willow Tree figurine that's suited for them.
You can purchase the various Willow Tree collectibles both in store at Carlton Cards, Hallmark and online.
Do you collect Willow Tree collectible figures? Which one is your personal favorite from your collection?
Website: enescocanada.com