Hallmark offers a large selection of Thanksgiving products to help you celebrate, and spread a deep sense of gratitude this upcoming Thanksgiving.  Their wide variety of Thanksgiving fall home decor is perfect for setting a cozy, thankful mood as you host friends and family.  Decorative vases,  pillows, throw blankets, kitchen goods create the perfect atmosphere for entertaining.  Here are some of our favorite Thanksgiving products from Hallmark.
Simple Thanksgiving Candle Display
At the center of every thanksgiving table is usually a turkey, but before or after its decorated by a really cute centerpiece.
Weather you're hosting an intimate gathering of friends or having the entire family over for dinner,  candles set the mood.
Your dinner table can look its best when adorned with an elegant centerpiece like these Clear Bubbled Glass Hurricane Candle holders. They are perfect for a quick and easy holiday candle display.
Simple and elegant, the dual-purpose vase and candle-holder will flatter any floral arrangement or table.  Display this go-anywhere decoration on a buffet, or fireplace mantel. 
Surround it with Acorn Vase Filler or Pinecone Vase Filler, also available from Hallmark for an autumn look. 
When Thanksgiving is over, remove the egg corns and replace with bells to ring in the Christmas season.

For a bright, seasonal centerpiece, tuck a trio of flame-less pillar candles into a branch from the yard. Fill the open spaces with gourds, leaves, and artificial cranberries.
Crafters & Co. Reed Diffuser- Harvest Wreath adds a fresh, aromatic fragrance to your home. Reed diffusers are a great alternative when you don't want to burn candles in presence of young children or pets.
Fall Kitchen Essentials
It is always nice to add a festival feel to the  kitchen during the Thanksgiving holiday. I normally opt for a new set of festival
tea-towels.  However, Hallmark offers several Thanksgiving kitchen accessories from a Pumpkin Treat Bowl With Lid to pumpkin salt and pepper shakes. Perhaps you are in need of a new  platter. Mud Pie® Happy Serving Platter is great for any holiday celebration from Thanksgiving to Christmas. It would be nice for a fall wedding.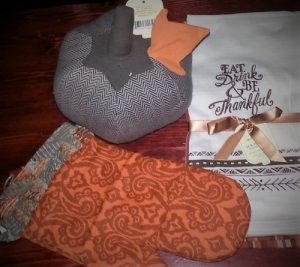 I have added the following items to my Thanksgiving kitchen accessories.
Dish towels are one of the most important tools in your kitchen.  As previously mentioned, I love holiday themed tea towels. Made out of 100% woven cotton this set of tea towels makes a wonderful gift for the host or hostess of your Thanksgiving meal. It comes in a set of 2 tea towels. The cream towel is embroidered with the words  "Eat, Drink & Be Thankful."
When you are whipping up a full-blown Thanksgiving meal, good potholders or an oven mitt will come in handy. Made out of 100% cotton the oven mitt features a handy loop for display and quilted, padded interior lining. A potholder is also sold separately to match it.
Home Décor Items:
Pumpkins are a staple for the Thanksgiving decorating season. Made of 100% cotton with 100% polyester filling, the pumpkin is crafted in a perfect herringbone fabric. It is one of those decor pieces you'll be pulling out year after year to add to your decor.  There are 2 sizes to choose from.  In a household with young kids this fabric pumpkin is a family-friendly decor item.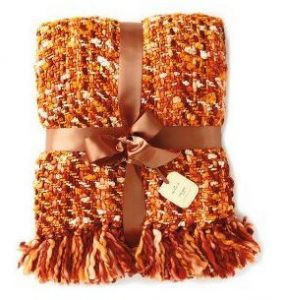 Cozy up in front of the Fireplace with a Cozy Autumn Throw. It features rich colors and will coordinate with your home's look for the fall season. It too is also perfect for a fall wedding.
Let Hallmark help you set the tone for a grateful Thanksgiving this year.
About Hallmark
For more than 100 years, privately held Hallmark has been dedicated to creating a more emotionally connected world. Hallmark Greetings, Hallmark Retail and Hallmark Home & Gifts can be found in more than 40,000 retail accounts including mass retailers, Hallmark Gold Crown® stores and online. Hallmark's family of companies also includes Crayola®, maker of creative art tools and toys, and Hallmark International, which offers products in more than 30 languages available in 100 countries. Hallmark employs more than 27,000 people worldwide. For more information, visit .hallmark.ca