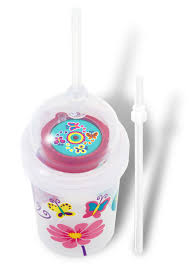 Helping kids, especially at a young age, to drink more water can have a HUGE impact on the rest of their lives. Yet many of us struggle to get our kids to drink water. Lucky for me, my youngest daughter happily drinks water and never ever questions whether she likes it or not. For those of you that are having trouble getting your kids to drink more water, I have a few suggestions.
Make drinking water fun! NuSpin Kids Sip & Spin cup encourages children to drink more water. Designed for children one and over the cup is BPA, Phthalates, PVC, Nitrosamines, Latex, and Lead free.
The Sip & Spin straw cup has a unique fun-factor that sets it apart from other sippy cups on the market. NuSpin Kids Sip & Spin features a pinwheel in the lid that spins, as your child sips from the straw.
Playful artwork on the pinwheel disc coordinates with the cup art, creating an engaging drinking experience for your child. The racing trucks and soaring butterflies can encourage playing kids to not only drink more water, but the spinning pinwheel can be used to motivate kids in other situations, too. It can cheer up and re-hydrate a sick child, or motivate a toddler to transition from a bottle or spouted sippy to a straw cup.
Made of silicone, the cup is naturally weighted, so it works even when your toddler tilts it on its side, and it's great for use with juice or milk. The cup features a no valve design (recommended by the American Dental Association) to help kids transition from bottles to adult cups by reinforcing sipping versus sucking.
Since both straws are valve-free, they can be cleaned in the dishwasher or sink.
Overall, this is a creative way to encourage kids to drink more water and stay hydrated. My daughter loves her new cup.
Website: https://nuspinkids.com/
Below are some other ways to help your kids drink more water.
Make sure your child sees you drinking lots of water.
Keep a jug of cold water in your fridge.
Some kids will drink more water simply because of the cool shape of the ice cubes in their water.
If she/her steadfastly won't drink water, try diluting their apple juice with water – half juice, half water. Gradually increase the dilution until they are basically drinking water.
Adding a little flavor can take the boring out of water for kids. Try adding strawberries or orange slices to their water.
What are your tips for getting children to drink more water? Share them in the comments.