One of life's simple pleasures is a great cup of coffee. During the summer months though, iced coffee makes for a refreshing change of pace.  There's nothing like an iced coffee to get you going on a hot day! In fact, it is a wonderful pick-me-up any time of the day. While enjoying a chilled coffee drink is a popular past time at your local coffee shop, iced coffee can be as easily prepared at home and you will be saving yourself money. It didn't make sense for me to continue to pay almost $3.00 for an ice coffee at my local Tim Hortons, when I can make it at home for less using my Driven Coffee.
If you normally have half a pot of coffee left over at the end of the day, instead of throwing it out, you can pour it into a pitcher or mason jar and place it in the fridge to chill.
Once chilled, fill up a tall glass with ice cubes. Pour the cooled coffee over the prepared ice.
Tip: Do not allow your beverage to become watered down. Cool your favorite coffee beverage with ice cubes made from fresh-brewed coffee. Freeze some coffee ahead of time in a ice cube tray.
If you don't have any left over coffee on hand, you can brew a fresh pot of hot coffee. Let the coffee cool to room temperature (approximately one hour), then move the coffee into a jar and into the refrigerator for a further two hours to thoroughly chill. Fill a tall glass with the chilled coffee, add a few ice cubes, plus milk or cream, if preferred. Stir well and serve. If you're seeking a dairy-free coffee drink, you can use almond milk or coconut milk as an alternative.
You can also add sweetener to your ice coffee, if so desired.
Coffee Frappé
Pour about a cup and a half of freshly brewed coffee into your blender.
Add crushed ice.
Add 1/4 cup of milk.
Blend for 10 seconds. For a thicker consistency, add more ice and blend. Pour into 2 glasses, and top with whipped cream and chocolate sauce or 1 teaspoon of vanilla extract if desired. You can also add sugar if desired.
For adults 19 and over in Canada, 21 if in the US, add some Bailey's cream.
How To Make Cold Brew Coffee
Cold Brew coffee is very different than Iced Coffee because of the way it is prepared. The main difference between cold brew and iced coffee involves temperature. Cold brew is brewed cold and never heated, while iced coffee is hot coffee that's then cooled down.
1st: Grind 3/4 cup beans for 4 cups of cold water. This is the size of a 32-ounce French press. Be sure to grind the coffee very coarsely.  Pour the coffee into the bottom of your french press and gradually add the water. Stir gently, making sure all the coffee grounds are moistened. Let stand at room temperature for at least 12 hours ( generally overnight).  Next, simply press down on the plunger to move grounds to the bottom. Pour your coffee over ice, add milk and sugar if desired. Enjoy!  Coffee will keep for up to 2 weeks covered and chilled in the fridge.
If you don't have a french press, to make cold-brewed coffee: Place the coffee in a glass jar, add the water, and stir to combine. Strain the coffee through a large-size paper coffee filter, a fine sieve, or a strainer lined with cheesecloth.
Whichever method you choose to use, you can create an iced coffee that excites your palate.
Experiment with different types, such as Mexico Chiapas SHG, or Brazil Santos coffee. You can also add liquor (dark rum), ice-cream (strawberry ice cream and add real strawberries) chocolate, caramel or other flavorings and whip cream to make the drink your own.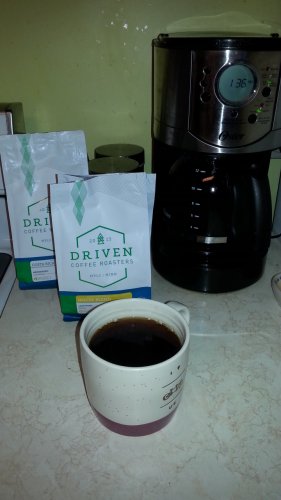 Driven Coffee offers the world's finest specialty coffees ranging from their light roast Breakfast Blend to their dark Italian Roast.  Their new line of unique blends and single origin coffees make for a  great cup of hot or cold ice coffee and appeal to even the most sophisticated palates.
Driven Coffee isn't just great coffee!  They donate 10% of all sales made through their website to their Partner Causes including United Way, Feed My Starving Children and Chi Alpha Campus Ministry – Great Plains. When you make a purchase from Driven Coffee you choose your favorite Partner Cause from their drop down menu and 10% of your sale will be donated to your cause of choice.
I recently tried two of Driven Coffee's blends. 1st up was a gourmet coffee from the Tarrazu Volcano region of Costa Rica.  The coffee has a mild boldness that we immediately enjoyed. The acidity is blended with a sweetness that seems to come from a balance of chocolate and citrus notes.  You could definitely smell the chocolate aroma. This was my husband's favorite, where I myself prefer a light roasted mild coffee.
Driven's house blend was my preferred choice of the two. The smooth, even body of the blend, helps me get through the day. The coffee had a mild smooth taste with an inviting aroma to entice you. Driven house blend is decidedly mellow and milder than the Costa Rica Tarrazu coffee.  House blend consists of a post blended combination of Brazil and Costa Rica for this coffee.

Costa Rican coffees set the standard for washed (wet processed) bright Central American coffees in both the bean and at the mill. Costa Rican coffees are exceptionally high grown in amazing volcanic soil. These two factors come together to produce a very bright and very clean cup. The best Costas are the cups that develop a bit of berry fruitiness to compliment the straight-out brightness. Costa Rican coffees serve as an excellent bright single origin coffee and will definitely add life to various blends. Additionally, these slower grown, dense, high altitude beans can take the heat of a French roast.
Both coffees are blends that you can enjoy as much in the morning, as you would after lunch, or after dinner.
Whether you prefer a light, medium or dark roast coffee, you're sure to find a favorite among Driven Coffee's fresh, high-quality varieties.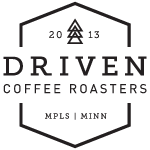 Driven Coffee definitely met my quality requirements for great coffee. If your friends and family love great coffee too, and you're looking for a fun and unique fundraiser for a local sports team, church or school group, you'll love the Driven Coffee Fundraising Program! Be sure to check it out.
One of the nice things about buying coffee online, is that the coffee is grounded fresh and shipped to your door. They also have a larger variety of coffee then what is found at your local grocery store.
And, apparently, you don't have to sacrifice good taste for affordability, both coffee blends are just $11 for 12 ounces. I am anticipating trying Driven's breakfast blend. What I need now though is another cup of iced coffee!
Enjoy tea? We will have a simple ice tea recipe for you shortly.
What coffee blend interests you?