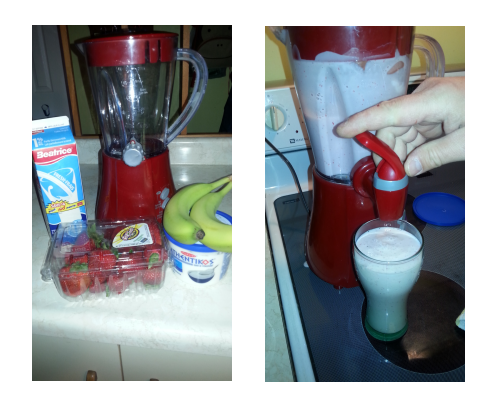 Nothing says "summer" more than the tangy, cool blend of creamy Greek yogurt, bananas, strawberries, milk and refreshing ice. One of my guilty pleasures is a strawberry, banana smoothie. I'm pretty sure that this was the first smoothie I tried back in my younger years, when Orange Julius first opened in  the local mall.  While I still love grabbing a smoothie at Orange Julius, I can easily make them at home with my Hamilton Beach Wave Station Express 54615.
With a 500 watt peak power motor and 9 blending functions, the Wave-Action system continuously pulls mixture down into the blades for a smooth, smoothie experience every single time. Plus, its 48 oz. dishwasher safe DuraBlend jar is large enough to make four 8 oz. smoothies at once – perfect for summer entertaining. In addition to smoothies we have also made coffee frappe, and  strawberry milkshakes for our three year old.
The spout is a really nice feature and it also comes with a cap if you do not want to use the spout. We did notice when using the spout that you have to tilt the blender to get all the contents out.  It crushes ice well too, but can sometimes take a bit of time. Make sure that the sprout is in the lock position when using or you will end up with milk all over your floor. I learned this the hard way.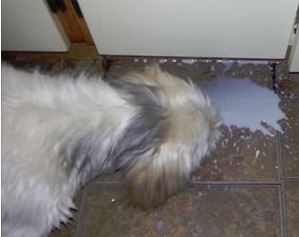 If you make a lot of drinks then this would be an excellent blender to have. It's small, lightweight, easy to use, easy to clean, easy to store, and very affordable.
We are beyond satisfied with the Hamilton Beach Wave Station Express 54615 and have given it Today's Woman's seal of approval. If you are looking to make delicious smoothies- Hamilton Beach is the direction to go.
The Hamilton Beach Wave Station Express 54615 is currently on sale at Walmart Canada for just $23.96, so why not order yours today.Strawberry Banana Smoothie
Fill your blender with fresh strawberries, fresh bananas,  greek yogurt, milk (any kind),  ice, and some honey to sweeten if needed. Blend until combined.  Pour into a large glass and enjoy!
(If the smoothie is too thick, add more milk. If it is too thin, add more fruit and/or ice.)
Coffee Frappé
Pour about a cup and a half of freshly brewed coffee into your Hamilton Beach Wave Station Express 54615.
Add crushed ice.
Add 1/4 cup of milk.
Blend for 10 seconds. For a thicker consistency, add more ice and blend. Pour into 2 glasses, and top with whipped cream and chocolate sauce  or 1 teaspoon of vanilla extract if desired. You can also add sugar if desired.
For adults 19 and over in Canada, 21 if in the US, add some Bailey's cream.
About Hamilton Beach Brands, Inc.:
Hamilton Beach Brands, Inc. is a leading designer, marketer and distributor of small electric household appliances, as well as commercial products for restaurants, bars and hotels. Hamilton Beach products can be found in households and business throughout the world.  Information on innovative Hamilton Beach® products can continue to be found online at http://www.hamiltonbeach.ca
Now is your chance to win your very own blender. Giveaway is open to Canadian residents 18 years and over. Best of luck to all who enter.