I absolutely love DIY crafts. Especially when it is a super easy and gorgeous project like this one. Give the holiday season a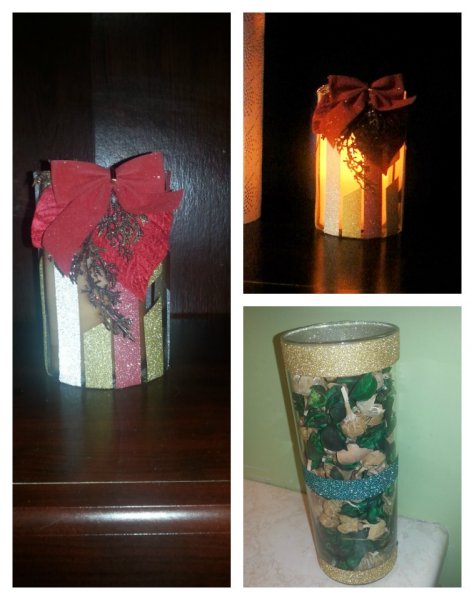 gorgeous glow with these Seal-It Glitter Tape candle holders. After-all, nothing beats the beauty of twinkling candles.
To make, cut off different sizes and colors of the Seal-It Glitter Tape. Start at the bottom and apply the tape in strips being careful not to overlap any of the strips. At times you will need to adjust the tape to ensure it goes on even and that there are no wrinkles or bubbles. When finished hot glue on a bow and add a pillar candle to the inside of the jar. I use a flameless candle inside my vase, which creates the same ambience as a candle.
I was able to remove the tape after placing it onto the surface and re-replace it with ease. The tape can also be easily ripped by hand instead of cutting with scissors. I like that the tape does not feel rough like other glitter tapes I have worked with; these tapes feel smooth. Glitter tape provides all the fun of glitter without all the mess or the worry of glitter flaking off!
Are you making your own bath salts to give as gifts? Use Seal-It Glitter Tape to decorate the jar. Seal-It Glitter Tape has so many uses from holiday cards, to gift wrapping to adding a glamorous touch to home decor.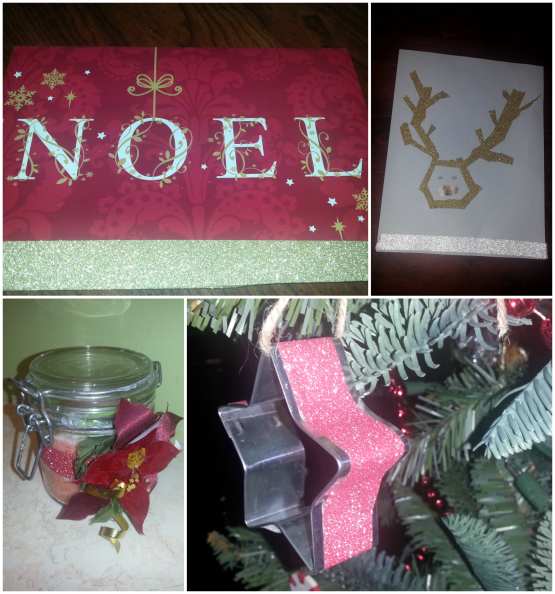 I also used Seal-It Glitter Tape to create a seasonal potpourri vase for my bathroom. Kids can get in on the fun and use the tape to make a reindeer. You can pick up an inexpensive canvas for about $2 at Dollarama or kids can use the paper they have around the house.
Looking for an easy way to trim the tree? Create beautiful handmade Christmas ornaments out of metal cookie cutters and Seal-It Glitter Tape. Begin by cutting a long piece of tape. Make sure you have enough to go all of the way around your cookie cutter. Start at the bottom, wrapping it around the cookie cutter pressing as you go to clear out wrinkles and bubbles. Add twine for hanging.
Seal-It Glitter Tape is available to purchase online and at a variety of retailers. I am looking forward to using the Seal-it tapes for other décor projects and to jazz up holiday gifts.
Seal-It has created four TAPESY videos (think TASTY but for crafts), showing that beautiful holiday decor can be made in minutes and at a low cost, with step-by-step instructions how each craft is made. You can then create your own version of the craft, upload it to the contest page and are automatically entered to win 1 of 4 $1,000 prizes!
Each video showcases a new craft, giving you a new opportunity to show off your crafting skills. Videos are uploaded via the Seal-It Facebook page every Monday until Dec. 19. Contest ends Dec. 31.
Website: sealitglitterstore.com