This Easter give your children the gift of creativity. Make Easter fun, bright and colorful by making an art themed Easter basket. We have the perfect Easter basket ideas for your
little artist from our friends at OOLY.
My little preschooler is quite the crater. She loves getting creative. We own several products from OOLY and they have been getting their use over the last few weeks, as we lead up to Easter.
Chunkies Paint Sticks are a mess free paint in a solid stick form that draws smoothly over paper without the need of brushes or water. They're easy to use, quick drying and portable, making them perfect for little hands!
Each pack includes 12 different vibrant colors. My daughter has been using the paint sticks to make pictures with and to create paper eggs to decorate our fridge with. You can find printable Easter eggs to color, decorate, and use for crafts and other Easter activities at firstpalette.com.
We also used the paint sticks to decorate some plastic eggs. The painted eggs make for a simple Easter centerpiece. We also used Lil' Poster Paints -Neon & Glitter, color luster metallic markers and mystery metallic markers to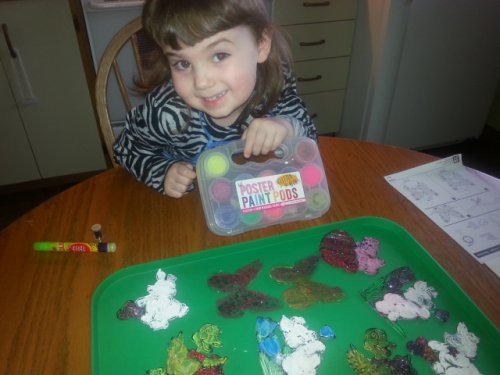 create these lovely eggs.
We get lots of use out of lil' Poster Paint Pods in our house. They are our go to paint. The Glitter and Neon lil' Poster Paint Pods set comes with 6 glitter and 6 neon paint pods. We recently used our paint pods to paint some plastic sun catchers for Easter gift giving. My daughter is a huge fan of the glitter colors.
Of course we couldn't of did any painting without The Brush Works paintbrush set.  The Brush Works makes a great all-in-one set with 7 paintbrushes of different sizes and styles including small flat, small angle, extra small round, medium round, medium filbert and large flat. I love that the set comes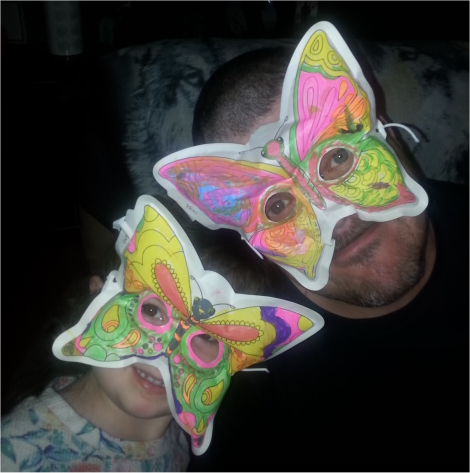 with so many different size brushes and I found that the brushes clean up nicely too.
We had lots of fun with the 3D coloring masks. Kids get to color, inflate and play with these masks. The masks were super easy to inflate with the included straw. Once inflated, the masks stay inflated. The butterfly set comes with two masks and other 3D coloring masks sets are available.
I have always been fond of colored pencils (or pencils crayons as we say here in Canada). The Jumbo Brights Neon Colored Pencils are particularly nice for  kids in kindergarten or first grade. Their chunky size makes it easy for young kids to grasp onto.
You get 8 colored pencils in a package. We have used  the pencil crayons for numerous activities including coloring in these Bunny and Chick Stick Puppets. These easy bunny and chick stick puppets are great to use for spring or Easter-themed finger plays, stories, and learning activities. We put on a puppet show when we were done. Steps can be found at our favorite website: firstpalette.com.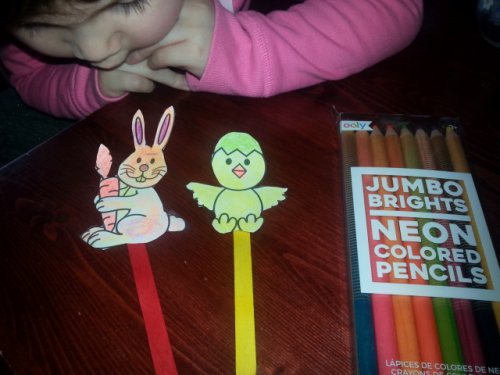 Sweet Stampers Double-Ended Scented Highlighters will be your daughter's new favorite highlighter. My four year was indeed sad that she had to share them with her older sister. Sweet Stampers are double-ended markers with one side being a chiseled point felt tip highlighter and the other being a fun stamp shape.  They are scented too!
There are plenty of options out there when it comes to a journal. Measuring in at the standard 3.5" x 5 dimensions commonly seen in the land of pocket notebooks, International Arrivals Pocket Pal journals come in a huge array of colors and patterns from abstract to quotations to my personal; favorite "world of wisdom." Inside, you'll find 32 pages of lined paper that stand up well to different type pens.
Pocket Pal journals come in packs of 8 and retail for $9.95. They are just slim enough to fit in your back pocket or carry along with you in your purse. My eldest daughter Megan is living with an acquired brain injury. She finds it helpful to carry one of these journals on her when she needs to write things down.
Next up is Left Right Crayons, which are a huge hit in our house with my daughter. They are her go to coloring supply. Made of an eco-friendly polymer, these crayons are totally non-toxic, so even young children can colour safely. The crayons are perfect for toddlers just learning to color, as they are strong and do not break easily like normal crayons. They also prevent the mess of a wrapper.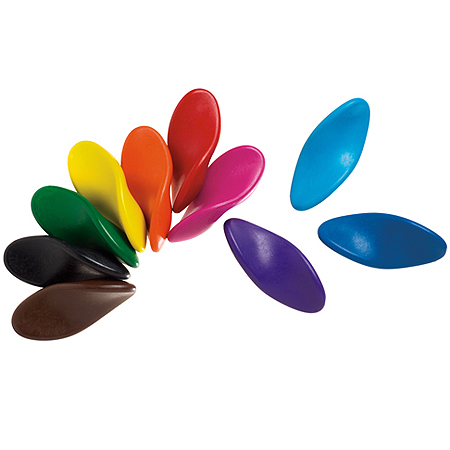 The ergonomic design of the crayons also assists with building fine motor skills by allowing the natural contours of the hand to hold the crayon for improved grip. Each package includes 10 crayons in 10 colors – Light blue, dark blue, green, black, brown, yellow, orange, red, pink, purple. Did I mention they're erasable?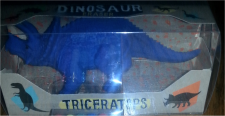 Speaking of Erasers. Do you have a dinosaur lover in your household? Decorative and functional Triceratops dinosaur eraser is a non-marking rubber eraser. Include the eraser in your Easter basket with a dinosaur Ty and some Giant Value Mini Eggs that you can pass off as dinosaur eggs.
For young girls, OOLY has all sort of little gems, for parents looking to put a little something in the Easter basket that isn't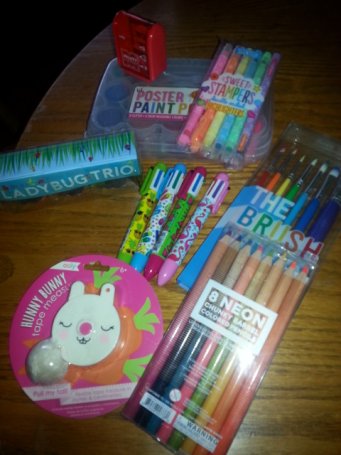 sweet. Some of our personal favorites are Ladybug Trio Erasers, Hunny Bunny Tape Measure,  six click multi color pens and BFF scented eraser bracelets.
Why use a boring black or blue pen when you could have a pen that had four or more colors?  I remember these pens from my school days in the 70's and 80's.  Of course these pens were prone to jamming, but the current model from Ooly works much more smoothly.
At the click of a color-coded button you select the color you want. Ink colors include blue, green, yellow, red, purple and classic black. The Summer Fun 6 Click Pen comes in four different varieties with fun summer themed artwork on the barrels. Choose from light blue, green, light pink and hot pink.
OOLY encourages children that getting clean can be fun with Body Doodles. Offered in 6 colors they are sure to make bath time worth looking forward to. They are also great for face painting, as an alternative to face paint. While the colors are not as vibrant, they wash off extremely easily. Includes 6 crayons – red, yellow, green, blue, white,
black. These are perfect for the Easter basket!
With Chalk-O Rama Dustless Chalk Sticks your child can show off their creative expression on nearly any surface. You can write with chalk on glass, wood, whiteboard and of course paper.  We made a footprint bunny with Chalk-O Rama Dustless Chalk Sticks.
There are oddles of places your kids can color on, so don't forget to pick up a package of Oodles of Doodles Multi-surface Markers.Color and draw on a variety of surfaces with this set of 10 incredible markers. Oodles of Doodles Multi-Surface Markers can write on an amazing amount of things. Try them on glass like windows and mirrors and even blackboards and whiteboards. And of course they'll work on paper as well as wood and fabric too.
It's not every day that you see a cute colorful pen with a big fuzzy pom pom on top and a funny little bow tie. But why not grab a few for Easter. Straight from Korea, these puffball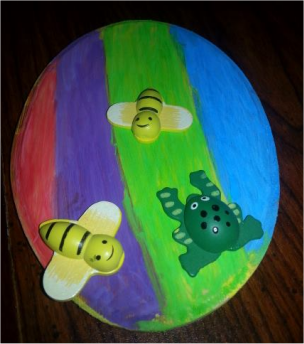 pens have a lot to say. With 30 different styles of Lollypop Pens to choose from, you can give a unique Sakox Pen to everyone in the family.
OOLY is a contemporary gift/stationery company who offer an assortment of FUNctional items geared toward children and children at heart!
Website: OOLY.com