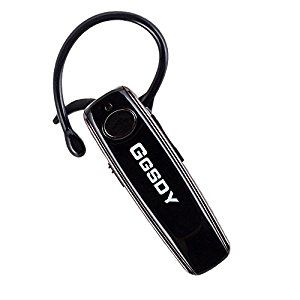 Bluetooth headphones are fast becoming a must-have for people who have mobile phones. If you want an affordable headset for yourself or someone on your Christmas wish list, look no further than the GGSDY Wireless Bluetooth Headset. This device you can reply on. The Bluetooth headset is equipped with the latest Bluetooth 4.0 chip. And it stays in your ears securely, and comfortably as you commute to work, or run errands. In fact, it is super light weight. After a while you forget your even wearing it.
GGSDY Wireless Bluetooth Headset review
The GGSDY Wireless Bluetooth Headset ships from Amazon well protected in a small box. Everything you require to use the headset is included in the box. The headsets came with a USB cord, ear hooks, ear buds , another ear bud to plug in for songs if needed and an instructions booklet.
The on/off, volume and call buttons are easily accessible and found by touch while wearing the headset. There is an indicator light and the top of the earpiece has a micro USB charging port. The 360° adjustable ear hook allows you to adjust the angle. And you can fit this headset into your right ear or left ear. So far the battery life on the headset has been excellent.
Pairing the GGSDY to my Samsung galaxy was no problem. I turned the Bluetooth on and my smartphone connected to the device quite quickly. This bluetooth has 24 hour talk time and 22 hours of music listening time. I have yet to use the music feature, but I am sure I will.
As a small business owner this product works great to free up my hands, when I am on conference calls at home or when I am driving. I do a great deal of highway driving. My phone is normally set to hands free mode. Therefore I can use voice command to make calls or answer incoming calls. With that feature, there was always a great deal of background noise. I am happy to report that the GGSDY is clear and crisp. I have no problem hearing the person on the other end of the phone and they can clearly hear me.
It is clear that the functionality and quality from the GGSDY Wireless Bluetooth Headset is exceptional. At a price tag of $25.99, you can not go wrong.  You can order the "GGSDY Wireless Bluetooth Headset" in black or white via Amazon.ca or Amazon.com. 
Happy Shopping and Merry Christmas!