Everyone loves a new pair of winter boots. Skechers is a good quality brand of boot that is not only functional, but their boots also look attractive. They have lots of cool options for men, women and kids.  The company has taken a great deal of care when designing their winter boots, without compromising on their utility. Not only are they some of the most appealing look boots on the market, Skechers winter boots are also among the most comfortable.
Skechers womens boots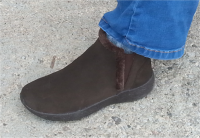 For women and teenage girls, there are a wide variety of  boots to choose from.  Whether your taste is casual, sporty or more dressy, there is a pair of boots for you. I am taking comfort into the cooler weather with the SKECHERS Burst . These light weight shoes feature a soft suede upper in a slip on ankle boot with stitching accents and faux fur trim.  They come up to the ankle perfect for casual comfort. Inside the boot is an air cool memory foam insole. The boots are super light weight and sporty looking. The boots are relaxed fit, perfect for wearing for long periods of time. I find these boots are quite roomy. I really like how they don't look or feel bulky!  It has a low heel, and flexible rubber traction out-soles, which are good for day-to-day use. I must admit that these are one of the most comfortable boots I have owned and find myself wearing them more these days than my regular winter boots. With the memory foam insoles it is like walking on air.  I love that I can just slip them on with ease. Skechers has thought of everything to make this boot comfortable, warm and very trendy.
Skechers mens boots
Men looking for a rugged boot for at home  snow plowing the driver or for short outdoor excursions, will find the Skechers Relaxed Fit Relment– Pelmo Boots delivers.  Theseare a lace up  waterproof ankle height comfort hiking style boot with stitching with metal hardware and overlay accents that make for an attractive boot. They are made from a combination upper with Waterproof durable sport suede with synthetic and mesh fabric.The have a reinforced toe area, and there's plenty of padding around the collar. There's memory foam in the foot-bed, which is extremely comfortable. The boots feature a durable rubber out-sole for great traction and stability.
Skechers burst sneakers
My husband has fallen arches in his feet from years of steel boot wear. Finding an affordable pair of shoes that are going to provide daily support and comfort is a task. However, Skechers burst sneakers deliver. The memory foam in-soles are extremely comfortable.  It almost feels like your walking on air. As you walk around in them – you do feel a spring in your step.The shoes soul seems to respond back while supporting your every step. The quality and the stitching of the sneakers also show true craftsman. He has been wearing his shoes for a month now and they still look new.
Skechers kids twinkle toes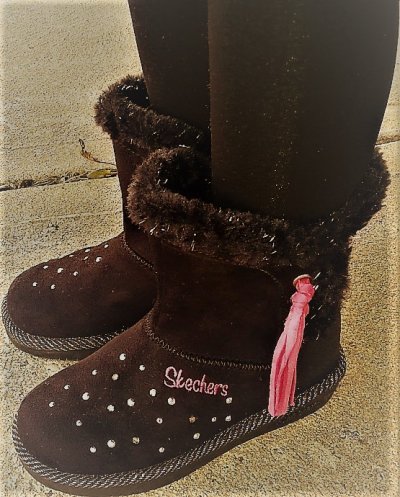 Keep her tiny toes comfy and warm with these super chic and adorable boots. SKECHERS Twinkle Toes: Glamslam – Tassle Tootsies boots feature a soft faux suede fabric upper that adds cozy charm.  This mid calf boot features side zippers with stitching accents and faux fur trim. The zip closure ensures a secure fit. The boots will give her some shiny sparkling magic due to h their light-up design and sparkling celestial details. I like that the boots are cozy and yet stylish. They are go too boot to wear when dressing up.

For a spunky little girly girl who likes to stand out might we recommend Skechers kids twinkle toes shuffles sweet steps light-up sneaker.  The combination of gold and pink is very pretty. I love the added touch of the pink bow on the flap. My daughter has wide feet and the width of these shoes is perfect for her feet. The shoes are Velcro so they are easy for my daughter to get on and take off.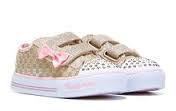 No matter what kind of footwear you need, you can count on Skechers shoes to provide you with the best. Whether you're working out, holiday shopping,  hanging out with friends or simply lounging around the house, you can't go wrong with a pair of Skechers. This year give the gift of footwear from Skechers. Your family will thank you!
Visit the official Skechers website to see the full line of Skechers winter boots and shoes for your family!