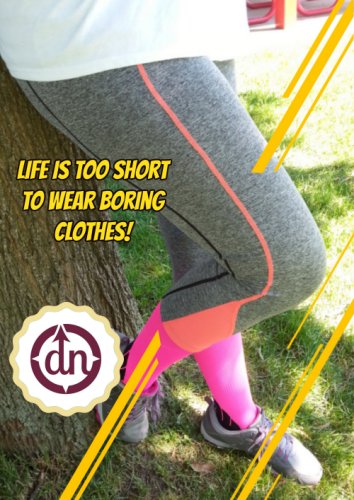 The latest buzz in fashion is athleisure. Yes, that is real a word. The style trend that promises a whole day's wear from a single outfit and generously gives us women the permission to wear leggings anywhere at any time was added to the Merriam-Webster Unabridged dictionary this year. Athleisure is that gym-to-the-office look that is so vogue right now, because its versatile and comfortable. When it comes to choosing athleisure-wear clothing it is not just about choosing clothing from your favorite brand. Style, comfort, fit, material, and price play an important role when shopping for athleisure wear.
Du North Designs takes pride in providing a wide assortment of athleisure wear featuring sport capris and yoga leggings in sizes small to extra large.  Based out of Alberta, Du North Designs makes it all too easy for women to feel good about what they are wearing all day, every day with prices that women can afford.
When it comes to athleisure, there are so many cute options. Prints make working out a bit more fun, and Du North Designs has several different designs of printed leggings. Some of the best include animal print, floral print, camouflage and loud wild prints. Du North Designs also has some great tanks that are easy to pair with your favorite leggings.
For every workout, whatever the weather, location or day of the week, the "One More Mile Sport Capris" from Du North Designs will provide you with sublime comfort and fit. These capris will make you want to go to the gym. Manufactured from a  23% polyester/8% spandex/ 69 % nylon knit fabric with a low rise waist, my daughter tells me that the capris move and breathe with her.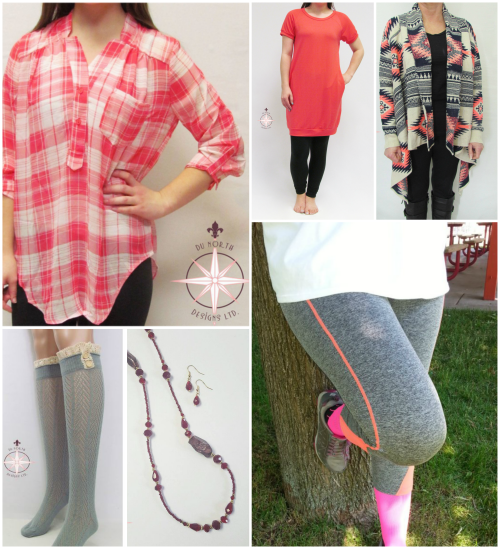 My daughter's style outside of the gym is pretty casual. Throwing on a plaid blouse with her sports capris instantly dresses up the look, taking her from the gym to school sessions or occupation therapy. Nothing pulls together her athleisure wear ensemble like her handbag and a pair of sunglasses, which she is always wearing. Be sure to check out Du North Designs wide selection of accessories.
Consider yoga pants a thicker alternative to leggings in the fall. Pair your "One More Mile Sport Capris" with laced knee high socks and an oversized company's coming cardigan, or wear them underneath a dress. Add a pair of ballerina flats, heels or clogs and you have the perfect office look.  Also be sure to add a bunch of jewelry to transition your workout look into daytime.
Pictured right you will see some of our favorites to wear with yoga pants from Du North Designs.
Are you inspired to try the athleisure trend? Let us know below and be sure to check out Du North Designs!
You will be pleased to know that the "One More Mile Sport Capris" we featured here are on sale right now for $19.99.
Du North Designs also sells children sizes, along with plus sizes and mens wear. Take advantage of early back to school shopping.
Du North Designs Ltd. retails fun boutique-style at an affordable price online and through local independent distributors. Shop or join their team today!
Website: http://www.dunorthdesigns.com