Compression socks are not exactly a clothing item you would think about, but perhaps you should. The modern compression sock was first invented during the 1950's by mechanical engineer Conrad Jobst. Conrad suffered from lower extremity venous insufficiency. He noticed that his legs felt better when he was in a swimming pool. He put two and two together and designed an elastic stocking that would simulate the hydrostatic pressure in a pool.
As the popularity of compression socks spread more and more medical professionals began recommending compression products for ailments, such as aching tired legs through to varicose veins. Compression socks have long been recognized as an important aid in the prevention of circulatory problems such as edema, phlebitis, and blood clots.
Compression socks also have been known to prevent skin ulcers on the legs and speed the healing of ulcers after they have formed. Compression socks are now routinely recommended for travelers who will be sitting on an airplane or in a car for more than three hours.
A recent study by "Persistence Market Research" is projecting significant growth in the compression wear industry. "Increasing prevalence of diabetes, growing aging population, high incidence of sports injuries, rising awareness about various venous diseases, and the advanced features of compression therapy garments and devices are the major drivers of the global compression therapy market."
Compression socks have become very popular and trendy among long distance runners. Compression socks are said to help runners achieve quicker times and a quicker recovery.
There are many professions that demand people to sit or stand for long hours. Compression socks are beneficial to nurses, waitresses, factory workers, mail carries or any other profession where you are on your feet for long periods of the day or sitting for long periods.
There are many different compression stockings available on the market. They come in different pressures from light pressure to strong pressure and are available in many styles and thickness. Stockings range from a thick cushion cotton sock to thin ultra sheer pantyhose material. They are available in many colors in open and closed toe styles.
My eldest daughter developed Orthostatic hypotension following her brain injury. Orthostatic hypotension — also called postural hypotension — is a form of low blood pressure that happens when you stand up from sitting or lying down. Common symptoms include dizziness, light headedness, blurred vision, weakness, fatigue, nausea, palpitations, headache, syncope or passing out.
Orthostatic hypotension results from pooling of blood in the lower extremities. Her physician recommended compression treatment. Compression treatment may help reduce the pooling of blood in the legs, which, in turn, helps improve blood circulation and reduce the symptoms of orthostatic hypotension.. Compression stockings gently squeeze ones legs to move blood up the legs.
My 26 year old daughter is self conscious when it comes to wearing compression socks, especially during the summer months when shorts are warn. The previous life brand stockings she owned were black, and granny like. I quickly went online and found BrightLife Go. BrightLife Go is your one-stop shop for athletic and fashion compression socks. They carry compression socks in a variety of colors and fabric, making them virtually undetectable.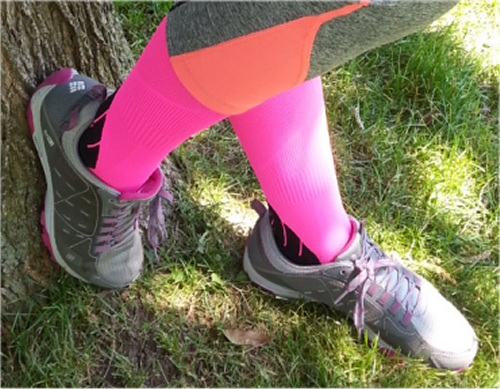 For my daughter graduated compression garments are thought to be most effective for the treatment of orthostatic syncope.
Zensah Tech+ Compression Socks are well known in helping improve blood circulation through the pressure they apply in the lower extremities. Zensah Tech+ Compression Socks are designed with ProGrade Compression Technology. ProGrade Compression provides the greatest amount of compression at the bottom of the compression socks, and as one goes upward, the amount of compression decreases.
Each pair of Zensah Tech+ Compression Socks are made with propriety Zensah fabric, which is both anti-microbial and thermo-regulating. The athletic compression socks keep your legs cool in hot weather and comfortable in cold weather.
I recently spoke to a nurse who wears Zensah Tech+ Compression Socks. She has found a great difference since wearing them. She commented that her legs are healthier and feel better at the end of the day.
The first thing my daughter notice was that Zensah Tech+ Compression Socks are remarkably comfortable. Compared to other brands of compression socks, Zensah Tech+ Compression Socks are thicker around the arch and foot area. Zensah has incorporated arch support as part of the compression sock, leaving your feet feeling comfortable. An elastic band goes around the foot to help support your arches for added comfort and to prevent fatigue.
They also feature a no slip cuff insuring the socks stay in place. Without compromising with the quality and the functionality of the socks, they are made available in a variety of good-looking colors. The socks can be a little difficult to get on, but then compression hose in general are often hard to get on. The only other drawback is that the socks only provide a 15-20 mmHg compression, where my daughter should be using a moderate 20-30 mmHg Compression. Nonetheless, she was pleased with the quality and comfort the socks provide and she just loves the color.
Thanks to BrightLife Go, my daughter's drawers are now filled with four types of compression socks- athletic, opened toe- perfect for sandals, sheer for times when she is wearing a dress and patterned socks for adding style and flare to her summer outfits.
Note: If you wear compression socks be sure to replace your socks every 3 to 6 months so that they maintain their support.
While compression socks can be an expensive investment, they are worth it for your health.
Don't sacrifice style for need. Shop brightlifego.com today.
Now is time for you to win a pair of your very own Zensah Tech+ Compression socks to rock this summer. Enter below. Good-luck!
Let us know in the comment section if you currently wear compression socks.