Now is the time to start planning your winter travel. When winter chill sets in nothing seems warmer then the idea of Puerto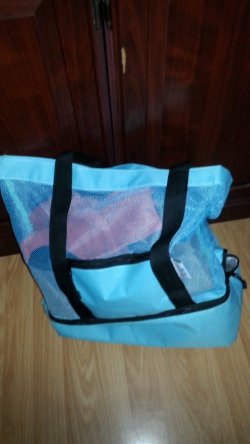 Rico, where temperatures rarely dip below the 83-degree mark. These days travel companies reward you if you book early – before the 31st of October. Pick up any one of the numerous travel brochures at your local travel agency and you'll find plenty of winter vacation packages that are suitable.  Once you have made the decision on where to go to avoid the winter chill, you will want to insure you have your winter beach vacation necessities. It comes down to finding the right beach items that will easily pack in your suitcase. With that being said, one of my favorite items on my beach essential list is a canvas tote. This canvas Premium Beach Tote Bag With Insulated Cooler from SAMBA Beach Bags is my go to bag. It is nice to find a company that has thought of everything when it comes to designing a beach bag. It is easy to see why this is indeed is the best beach tote bag.
I absolutely love the color of the bag. It is almost like a sea foam green. The beach bag itself is extremely light weight and comfortable to carry. The handles of the bag has a Velcro strap to keep the handles closed for easy carrying on your shoulder or in your hand.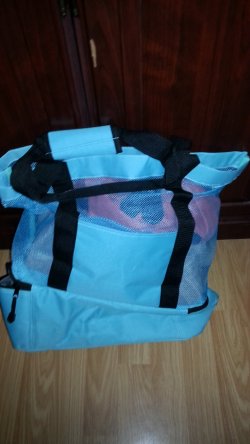 The main storage area of the bag measures about 18″ wide x 13″ deep. It is quite large. It will easily hold a bathing suit, book, sandals and two beach towels. There is even room for more, as I tested it. The outer small pocket is perfect for holding suntan lotion and sunglasses. The zipper pocket is large enough to hold a cell phone, mp 3 player, keys and change purse.
The bag even has a zippered picnic cooler in the bottom of the bag that is perfect for keeping drinks cold and storing snacks.
The cooler part of the bag is the perfect size. It will easily hold 10 cans of soda, or 4 bottles of water and a lunch for two. The picnic cooler bag attribute makes the bag a must for any parent. It would also keep baby formula cool if you are going to the beach with a baby.
The mesh netting on the bag encourages airflow, so bad odors from wet towels and your bathing suit are drastically reduced.
Aside from the beach,  the bag would also be great for cold drinks when traveling, or can be used as a bag for the pool. It also folds up for easy travel and won't take up much room in your suitcase.
I plan to gift this to my daughter for Christmas. I know that it will get lots of use. As part of her therapy she has been taking both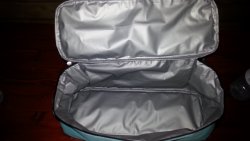 swimming lessons and partaking in aqua fitness. She will be able to use the bag at both the gym during the winter months and at the beach during summer months. What a great gift!
If you would like more information or to purchase a Premium Best Beach Tote Bag With Insulated Cooler visit Amazon.ca.