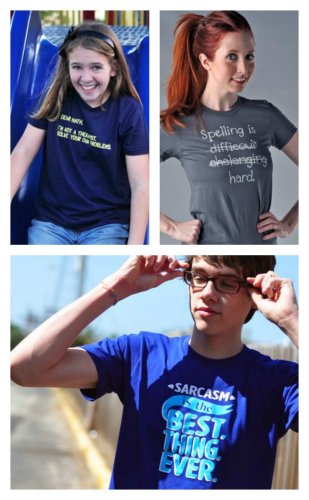 Is there anything more defining of teen fashion than the graphic tee? Think about it! A graphic tee is a teen wardrobe staple. Especially for the teen who craves casual comfort. A basic graphic tee can easily be the focus of the perfect back to school ensemble. With back to school shopping in full swing, the time has never been better to add some flair to their wardrobe with a bold new sassy tee from Smorgtees. Pair it with a new cardigan and some distressed jeans and your teenager will be ready to rock the halls of their high school.
Just insure that the tee you purchase doesn't have an obscene message, as many schools frown upon this.  Here are 5 of our favorite graphic tees from Smorgtees. You definitely won't fade in the background wearing one of these shirts.
Graphic Tees for Teens
The Dear Math, I'm Not A Therapist t-shirt is perfect for the student that struggles in math.
Snorg Tees reaches out to teens who have spelling difficulties with their "Spelling is difficult, challenging, hard" tee.
You may have realized your teenage son or daughters ability to be sarcastic. They will certainly appreciation the Sarcasm Is The Best Thing t-shirt.

Many teenagers put off chores or homework and waste time

. The I have not begun to procrastinate tee is for them.

TV show t-shirts are a great way to show ones affection for those favorite must watch programs.

If your teen ever watched CBS's the Big Bang Theory, then you know Dr. Sheldon Cooper is famous for saying "I'm not crazy my mother had me tested."
Whether they're funny or retro or rebellious, there's something to be said for a graphic tee. You do not have to be a high school student or young adult to enjoy a funny t-shirt either.  Take a close look at what your husband's wardrobe consists of. My husband's attire on a typical day consists of a funny t-shirt and a pair of jeans.
One of our favorite places to shop for graphic tee designs is actually SnorgTees, which got their start back in May 2004. For those of you who may be familiar with SnorgTees, you may not be aware that most of the designs are SnorgTees employee creations? That in itself is pretty impressive.
My husband owns various tees from Snorgtees and we found that not only do they fit well, but they wash well. We recommend hanging your t-shirts to dry, instead of placing them in the dryer to avoid shrinkage. My daughter owns a couple of tees from snorgtees too, and she has found the ladies t-shirts tend to run small. You may want to keep that in mind when ordering, and order a size up.
My husband normally gets through most days with two- sometimes three cups of coffee. In fact, he can be a bear until he has had his morning coffee, therefore this shirt was most fitting for him. It is also his newest shirt from Snorgtees and the perfect addition to his ever growing t-shirt collection.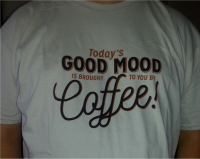 Visit Snorg Tees today for all your back to school t-shirt needs.
What are your favorite ways to wear a graphic tee? Share your thoughts in the comments below!