Fewer things will last longer in your wardrobe then a good rain coat. Rain coats have been around for centuries. Charles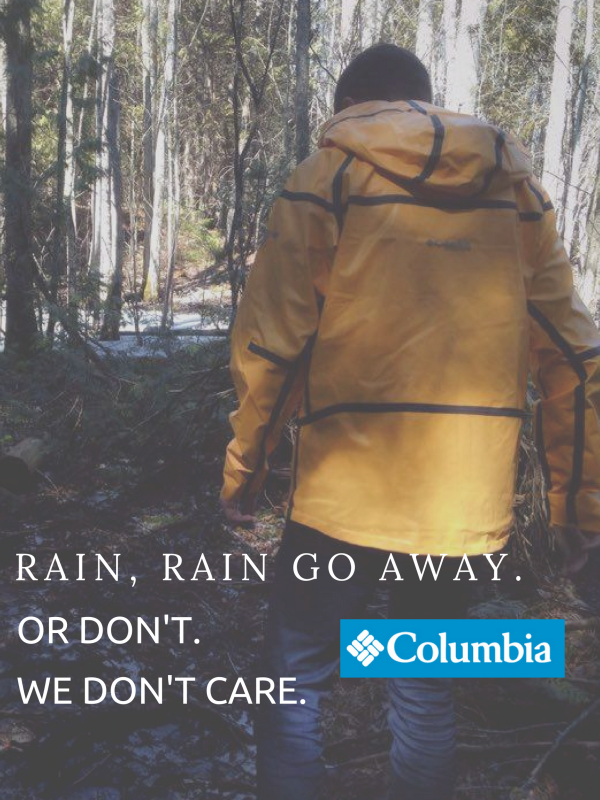 Macintosh invented the first rain coat in 1823. The simple rubber raincoat was undeniably waterproof, enabling one to keep dry in outdoor elements. A downside to Macintosh's invention was that the jackets were heavy, and did not allow perspiration to escape. It took over 100 years for the next major leap forward in waterproofing technology. In 1969, W.L. Gore & Associates introduced the revolutionary, waterproof breathable Gore-Tex membrane that is now found in a wide variety of styles and products. Gore-Tex is able to repel liquid water, while allowing water vapor to pass through. Fast forward to the 21st century. Columbia Sportswear has spent the last few years designing a new kind of waterproof clothing technology called OutDry Extreme.
Columbia has turned waterproof breathable jacket technology inside out. They ditched the outer layer all together, and placed the waterproof membrane on the outside of the jacket. The secret to OutDry Extreme is a new kind of chemistry, which strengthens the polyurethane. In addition, a thin diamond-pattern layer, also made of polyurethane, sits atop the membrane, serving as an armor.
OutDry Extreme, came to market in February of this year. My son put the "Columbia OutDry Ex Platinum Tech Rain Shell" to the test during the rainy spring and early summer months of 2016.
Part of the Titanium line, this insanely waterproof shell is fully seam-sealed with bold, external seam tape. The coat features an adjustable helmet-compatible hood for all those outdoor adventures. The shell also sports 2-way underarm venting and articulated elbows. Another highlight of the shell is reflective detailing that keeps my son in sight at night when he is out walking his dog or going for a run.
The two zippered chest pockets and hand pockets also provide extra venting options, in addition to plenty of storage space for my son to keep his cell phone safe from the rain. The drop tail is nice to keep rain from running down the back of your pants and won't ride up when worn under a backpack.
My son also gave the "Columbia OutDry Ex Platinum Tech Rain Shell" two thumbs up, as the perfect rain running jacket. For campers, this jacket is ultra-light and compact. It folds up easily and takes up less room than a bulky sweater.
Overall, we highly recommend the "Columbia OutDry Ex Platinum Tech Rain Shell" to anyone. It is perfect for those of you shopping for a breathable rain jacket for back to school, or for those of you looking for a compatible jack for extreme outdoor activities.
Columbia's OutDry Extreme line ranges from $150-$400, in a variety of sizes and colors for both men and women.
About Columbia Sportswear Company
Columbia Sportswear Company has assembled a portfolio of brands that connect active people with their passions, making it a leader in the global active lifestyle apparel, footwear, accessories and equipment industry. Founded in 1938 in Portland, Oregon, the company's brands are today sold in approximately 100 countries. In addition to the Columbia® brand, Columbia Sportswear Company also owns the Sorel®, Mountain Hardwear®, prAna®, and OutDry® brands. To learn more, please visit the company's websites at www.columbia.com