Easter is almost here. Why not enjoy the weeks leading up to Easter with one of these festive Easter books for toddlers and preschoolers from Penguin Random House.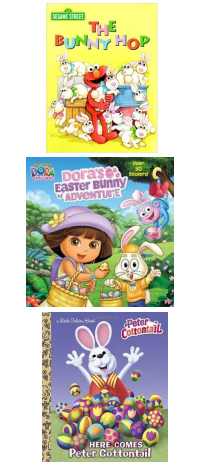 For children aged 2 to 5, The Bunny Hop by Sarah Albee (Author), and Maggie Swanson (Illustrator) is a sweet tale told in rhyme. "Early one Easter morning, bunnies begin turning up in the strangest (and funniest) places all over Sesame Street. Where did they come from?" The illustrations in the book are colorful and full of characters your children will be familiar with, including Bert, Ernie, Cookie Monster and Grover. My 3 year-old daughter enjoyed the book immensely, as did I. The book has a nice flow to it and would make a good 1st reader book. We practiced her counting by counting all the bunnies in the book.

Recommended for children aged 3 to 7, comes every little girls favorite explorer. Swiper has swiped the Easter Bunny's basket of eggs, and it's up to Nickelodeon's Dora the Explorer to save Easter. Not only is the book filled with lots of colorful illustrations and pictures for your preschooler to discover, but the book also includes a page with over 30 stickers. My 3 year old is a big Dora fan and this book is now being requested at bedtime nightly. If you have a Dora fan in your household then "Nickelodeon's Dora's Easter Bunny Adventure" will be the perfect addition to their Dora themed Easter basket.
Boys and girls ages 2 to 5 will love this exciting full-color Little Golden Book retelling of the classic holiday TV special, "Here Comes Peter Cottontail." The series was originally broadcast on ABC-TV, and in later years, appeared on CBS, Fox Family, and The CW. In 2006, it was followed by a computer-animated sequel, Here Comes Peter Cottontail: The Movie.

The book "Here Comes Peter Cottontail" is a 24-page book that tells the story of Peter Cottontail, a young bunny chosen to be the Chief Easter Bunny. But a bad bunny named Iron tail challenges Peter to a contest to see who can deliver the most eggs and become the rightfully named Chief Easter Bunny. The contest is not very fair, though, because Iron-tail thwarts all of Peter's good intentions, sending Peter on an egg-delivering adventure through many different holidays aside from Easter. The book features colorful illustrations by Linda Karl. Even for children like my daughter who isn't familiar with the TV series, this book still makes a fun addition to a child's Easter basket.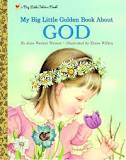 Little Golden Books have been a part of my life since my first memory. Jane Werner was one of the first editors of the Little Golden Book line. She wrote many of them over the years, including the bestselling classic "My Little Golden Book About God," which has always been one of my favorite books. This poetic book illustrates how even the tiniest things that we might take for granted, like the "jewels on the insect's back," are part of God's great plan. The text by Jane Werner Watson is simple but childlike. As a mom, I love the illustrations and trust it shows towards God. One cannot help fall in love with the beautiful illustrations by Eloise Wilkin. It is simply must have addition to an Easter basket.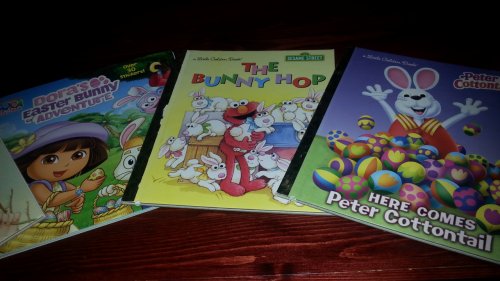 What is your favorite Easter board book for toddlers-preschoolers?
Website: penguinrandomhouse.com