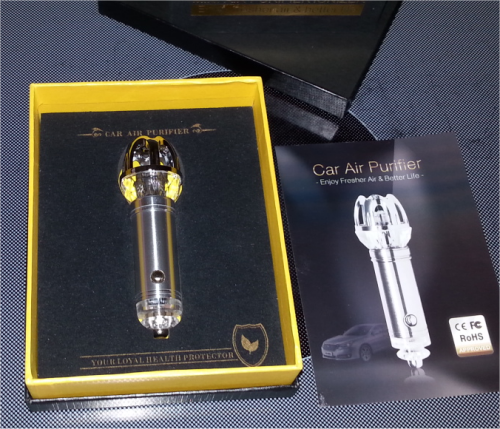 All vehicles build up odors from regular use.  If you're looking to purchase a good car air ionizer to eliminate odors, might I recommend the Laniakea Ionic Air Purifier.
This compact car ionizer removes car odors without artificial fragrances.  Working in a similar way to the regular air purifier that you use in your home, the Laniakea Ionic Air Purifier comes a much smaller form factor for your vehicle. Taking up virtually no space its compact size makes it small enough to fit inside ones glove department when not in use.
Simply plug the Ionic Air Purifier directly into the 12v cigarette outlet of your vehicle and it immediately comes on. The purifier releases 4.8 million negative ions per cm. for massive odor-fighting power. This is quite an impressive amount for such a small air purifier. The compact air purifier kills odor-causing bacteria, mold, viruses, and other airborne contaminants without the need for pricey filters.  And the crystal blue top makes it easy to see the purifier at night.
Best Compact Car Ionizer
I will admit that I was skeptical of the Laniakea Car Ionizer Air Purifier at first. However, after a week of use, I'm sold.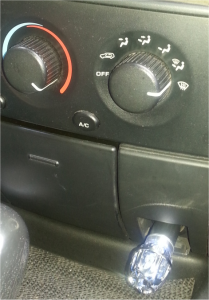 We live on a street that receives lots of dust.  Despite how much my husband cleans our vehicle,  the interior of our jeep is always dusty.  With dust mites being the main cause of respiratory allergy, I am always looking for ways to eliminate dust from my home and vehicle. I found while the Laniakea Car Ionizer Air Purifier did not eliminate all the dust from the interior of our jeep,  it did cut down on the dust drastically.
My husband also occasionally smokes in the vehicle. Even though he has the window down when he smokes, the odor lingers. I have notices that the Ionic Air Purifier does a great deal at eliminating the smell of smoke in the vehicle.
Priced at just $19.99 via Amazon this car ionizer is most of all affordable. The Laniakea Car Ionizer Air Purifier comes in a nice little box, perfect for gift giving. With the holidays fast approaching why not gift a few to the people on your holiday gift giving list. Purchase on Amazon.ca.