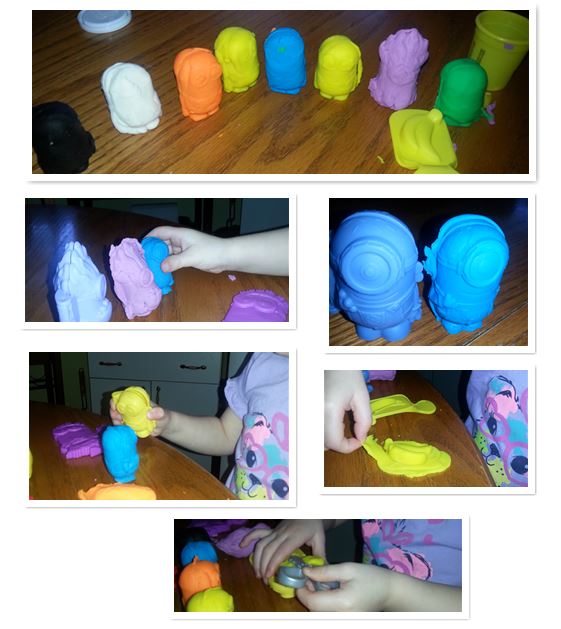 The Minions have invaded the world of Play-Doh with this custom Minion-making kit from Hasbro. Creativity and imaginative play are important skills, highly supported by use of this fun new kit. The Play-Doh Despicable Me Minions Mayhem play-set comes with three minion book molds, six accessory half-mold plates, a roller, three stampers, a banana cutter, plastic scissors, and eight cans of Play-Doh compound.
Recommended for ages three and up, my two and a half year old daughter was able to make some 3 dimensional Minions with help from me. The book-molds are easy for even a young child to use, and the Play-Doh does not get stuck in them, which is a bonus.
There is plenty of Play-Doh included in this set. This set includes 8- 2 ounce cans; just enough to get you started.
The set also comes with a pair of scissors. Perhaps, my kit had a faulty pair, but my scissors did not want to stay together. I recommend perhaps adding a pair of safety scissors to this Play-Doh kit. Using scissors with play dough is the perfect way for younger children to practice their cutting skills. I also wish they had of included a plastic knife with the kit, but that is something that can easily be added.
The set also comes with 6 half-mold accessory plates that you can use to disguise and customize each Minion.
Each accessory plates feature themes such as maid, golf, and fireman. The plates are harder for younger children to use, and even as an adult, I had some difficulties. When it came to decorating my minion, I did not even come close to the results on the box. It definitely takes some practice to get the 3d decorated design of your minion just right.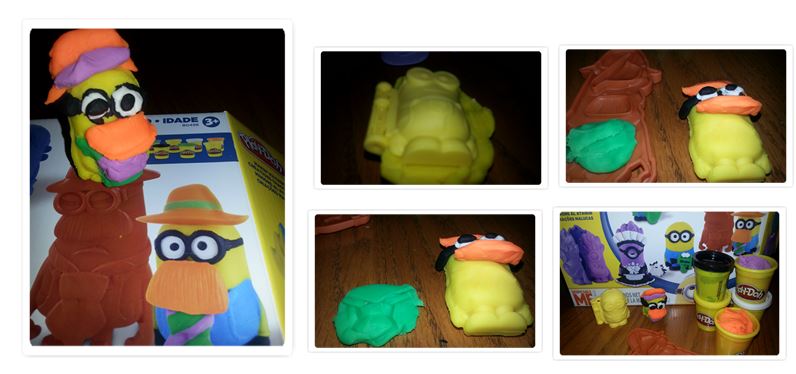 It definitely takes some practice to get the 3d decorated design of your minion just right. Younger children might enjoy using Mr. Potato Head small accessories with this kit.
All in all, Play-Doh Minions Mayhem playset is a fun and creative activity, to do with kids and toddlers to promote learning and development. Your kids will enjoy using the 3d Play-Doh characters to act out scenes from their favorite Despicable Me movie.
About Hasbro: Hasbro, Inc. (NASDAQ: HAS) is a branded play company providing children and families around the world with a wide-range of immersive entertainment offerings based on the Company's world class brand portfolio.
From toys and games, to television programming, motion pictures, video games and a comprehensive licensing program, Hasbro strives to delight its customers through the strategic leveraging of well-known and beloved brands. Shop hasbro.ca.