Remember the good old days? Before computers, iPads and cell phones, time was sent during recess and after school playing simple games like double Dutch, pickup sticks, and jacks. These traditional games, not only fostered friendship, but were also a fun way to build upon concentration and motor skills!
Griddly Games has given the 5 stones game, a complete makeover for a new generation of kids to enjoy. Believed to have originated in Ancient Asia, 5 Stones  a version of Knucklebones (also known as Fivestones or Jackstones) is similar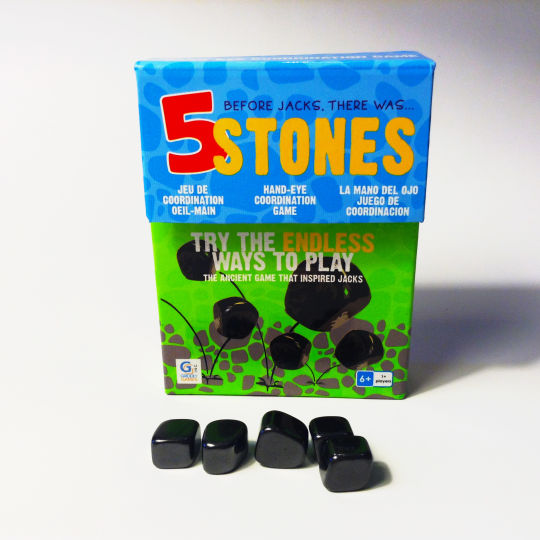 to "jacks," but unlike "jacks" Five stones is not played with a ball.
To start: A player throws all five stones into the air with one hand and tries to catch as many as possible on the back of the same hand. The stones should be resting on your knuckle or fingers. The stones that were caught are then thrown up again from the back of the hand where they came to rest and as many as possible are caught in the palm of the same hand. Repeat for each player. The player who catches the most stones starts the game.
The first player prepares to start by throwing the five jacks on the ground and picking up one. The player throws the stone up in the air, picks up another stone with the same hand and then catches the tossed stone before it hits the ground.
The stone is then put into the other hand. This is repeated until all the stones have been picked up.
There are 5 other challenges that can be completed in the included instructions and more challenges can be found at griddlygames.com.
Playing 5 Stones is the perfect game for hand-eye coordination and dexterity. It would make a great stocking stuffer.
There are many other childhood games we used to play. Which ones were your favorites?

About Griddly Games: Griddly Games are games that get you going. The company, based in Richmond, near Vancouver, British Columbia, creates award-winning party and board games that deliver innovative, engaging fun that brings people together. Founded in 2007 by Reisa Schwartzman, a mother of three boys, who took it upon herself to deliver wholesome family fun that multiple ages could enjoy at once, Griddly Games offers products that inspire laughter and fun, while promoting an active and healthy lifestyle. Griddly Games instill a strict company philosophy to encourage social interaction, learning, strategy and challenges that anyone (from across the grid) can enjoy. To discover more about Griddly Games, visit www.griddlygames.com