Interactive toys are one of the most asked for toys this holiday season and few toys are as interactive and fun as the Zoomer Chomplingz Z-Rex from Spinmaster. Suitable for kids ages 5 and up, Zoomer Chomplingz Z-Rex is the perfect toy for children interested in dinosaurs and/or interactive robotic toys.
The Zoomer Z-Rex is a smaller versions of Spin Master's Zoomer Dino. Zoomer Chomplingz Z-Rex comes with a bone, three modes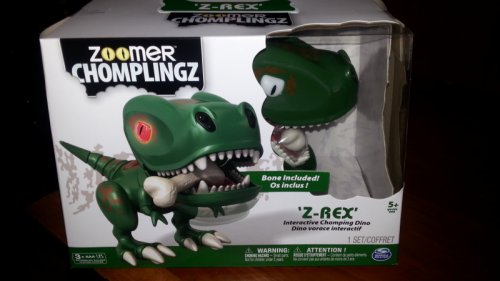 of play and 3 AAA batteries to operate.  Once inserted, turn him on and the fun begins.
Turn Z-Rex's tail to activate his play Modes. You will know that he is on when he burps. In auto mode, the dino's eyes will be green. In guard mode, his eyes will be red and in play mode, the eyes will be purple.
In play mode you can play 3 different games, such as catch or hot hands, where you place your hands in the dino's mouth and try to pull them back before the dino can chomp them. Who doesn't love a game of catch. You can also toss his bone in his mouth and he'll catch it. Once he completes 5 successful catches, he'll chew his bone.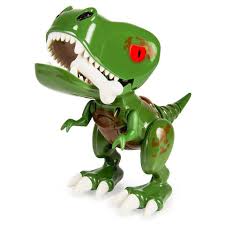 Zoomer Chomplingz Z-Rex is full of hysterical sounds. Activate Sound Warp and wave your hand in front of his mouth to warp all the sounds he makes. If you pull his tail, Z-Rex will let out a dino-sized fart. He'll even beat-box for you!
If you hold the back button down until his eyes turn red you can access the Guard mode with two different ways to play – Motion Sensor and Protect.
In guard mode, if anything moves too close to his nose, the dino will roar and chop. In protect mode place something in front of him and if anyone tries to move it, the z-Rex will roar.
Zoomer Chomplingz Z-Rex appears sturdy and aside from the bone that is included for a playing catch game, there are no little pieces to worry about losing, which is a huge bonus for parents.
Unlike other Zoomer toys it should maybe be noted that cannot actually move (zoom) across the floor. He has to be manually pushed instead of programmed to move.
Overall,  with so many options of play and a reasonable price tag,  Zoomer Chomplingz Z-Rex is the ultimate gift.
About Spin Master Ltd
A multi-category children's entertainment company, Spin Master has been designing, developing, manufacturing and marketing consumer products for children around the world since 1994 and is recognized as a global growth leader within the toy industry. Spin Master is best known for such popular brands as boy's action phenomena and 2009-2010 Boy's Toy of the Year winner Bakugan Battle Brawlers™, and award-winning brands Air Hogs®, Aquadoodle™, Spin Master Games™ including the popular Hedbanz™, Tech Deck™, Zoobles™ and Spy Gear™. The company has also marked an entry into children's media with the launch of Spin Master Entertainment, a subsidiary focusing on the design, development and production of television and other media properties. Spin Master employs over 900 people with offices in Toronto, Los Angeles, London, Paris, Hong Kong, Mexico City, Munich, and Milan. For additional information please visit: http://www.spinmaster.com.