Winner of multiple awards including Oppenheim Toy Portfolio Platinum Award, Dr. Toy Best Picks, and Parents' Choice Gold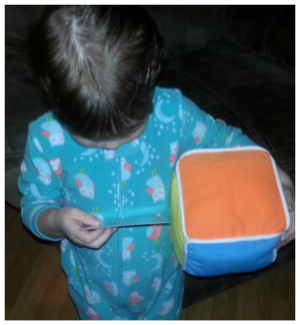 Award, comes a fun game from Thinkfun that your toddler will love. With the Roll and Play Game, your little one will be a regular part of family game night in no time.
The die in the Roll & Play game is a large plush cube. Each side is a different color. Players roll the die and then draw a card of the same color. Each card has an activity on it. The pictures engage your little one in conversation, therefore expanding their vocabulary. Once the card is read, they get to do the activity.
Card categories include: emotions, counting, body parts, animal sounds, colors and actions. Includes 6″ square plush cube and 48 laminated cards (4⅜" square) that store in a pouch on the cube.
The over-sized soft dice was a loads of fun for my soon to be 3 year old daughter to toss and watch roll around and even our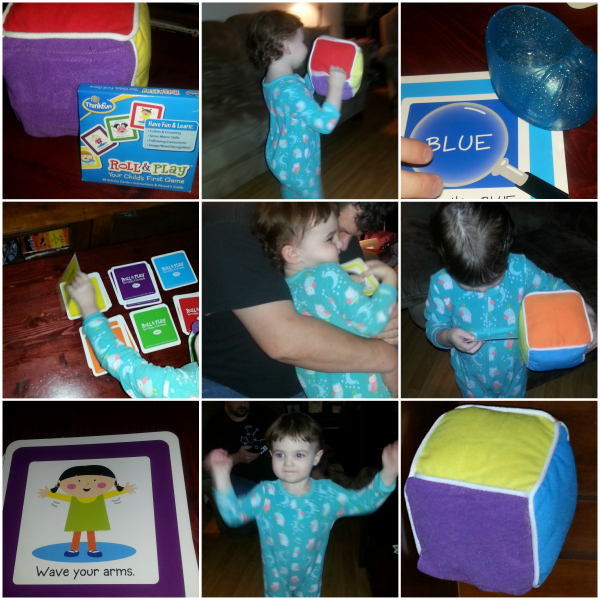 two shitzu dogs got in on the action.
She loved looking at the cards with all the actions printed on them, and handing the cards to my husband or I to read aloud.
As a parent, I love that the game play emphasizes turn taking and gross motor skills, without the pressure of competition.
My daughter was of course able to do all the activities, as where a younger child may have some difficulty with some of the cards.
Each card features a simple activity—make a happy face, roar like a lion,  give a hug, find something red—to introduce children to patterns and rules. The color cards- are similar to the ever so popular ispy with my little eye game-using color props.
As a parent, I am always on the the lookout for new education games that incorporate learning. With Roll & Play, the opportunities for learning are endless and provide excellent opportunities for my daughter to practice speech sounds, identify colors, follow directions and many more developmental skills.  
How have you integrated your little ones into game play? Do you think your child would do well with ThinkFun's Roll & Play? Share your thoughts in the comments.
About ThinkFun, Inc.
Now celebrating its 30th year, ThinkFun is the world's leader in creating addictively fun games that ignite 21st century thinking skills and give children an early advantage. Its broad range of games, brainteasers and puzzles are breaking new ground in homes and on the web. ThinkFun stimulates crucial brain development in logic, visual/spatial, math, language, focus and reasoning, preparing kids for a world where math, engineering, coding and creativity are of increasing importance. Visit them at www.thinkfun.com.