Created by computer science educator-Mark Engelberg, Code Master ny ThinkFun is a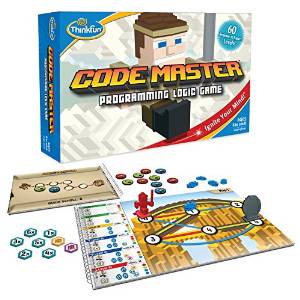 60-level 1 player game for kids ages 8+ – that teaches kids how a real computer executes programs, building a powerful mental model of how computers operate.
I recently had the privilege of trying my hand at this game, before handing it over to my wife's 13 year old cousin to play! My wife thought it was ironic that there was a game for understanding the fundamentals of programming, considering I am a professional Programmer and have been for 20+ years.
When asked if I would like to try my skills on Code Masters, I jumped right in.
Code Master includes a game board, a map book, a scroll guide, an instruction book and answer book and a handful of pieces and tokens. The program is written using a flowchart called a Guide Scroll, which illustrates the shape of the required program.
To start playing code master, you first have to select a map and skill level. Example: Intermediate to difficult.  You then sets up the game pieces to start playing.
The Code Master is the red avatar; the code master then works his way through the different maps as he collects the blue power crystals that he needs to get to the portal! Simple right? WRONG!
Each map tests the skills of the Code Master. It has the player trying their hand at programming techniques like loops and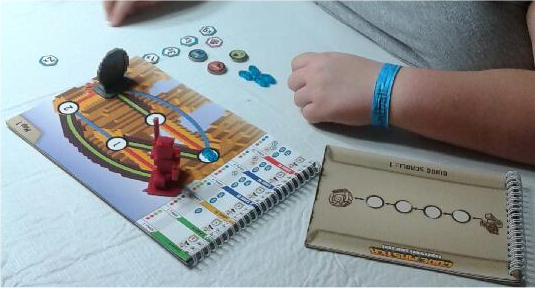 conditional statements to test their skills and problem solving techniques. The levels start out super easy and get more complex as you get further and further into the game.
How does the Code Master guide his Red Avatar around the game board?
He simply builds a program on the scroll using the action tokens to complete his task.
What if the Code Master makes a mistake and cant complete his task?
The player simply makes corrections along the way. We call this form of programming "Debugging" or error reporting, until we find a solution to fix it! Not that I have ever made a mistake while programming……………cough!
While this game won't teach kids coding it does give them the basic fundamentals to get them problem solving and thinking about how a computer works.  As a father I also appreciate that there are coding activities like Code Master that don't need to be done on an actual computer.
Code Master is now available exclusively at Target for a MSRP of $19.99 and via Amazon.com.
About ThinkFun, Inc.
Now celebrating its 30th year, ThinkFun is the world's leader in creating addictively fun games that ignite 21st century thinking skills and give children an early advantage. Its broad range of games, brainteasers and puzzles are breaking new ground in homes and on the web. ThinkFun stimulates crucial brain development in logic, visual/spatial, math, language, focus and reasoning, preparing kids for a world where math, engineering, coding and creativity are of increasing importance. Visit them at www.thinkfun.com.