Christmas is coming and you know what that means – aimlessly wandering your local mall wondering what to buy the tween-teen girl on your list. If you have tweens or teens that have moved beyond My Little Pony and Shopkins then we have the perfect gift ideas from Fashion Angels.
For those girls who like to show a bit of fashion sense, Fashion Angels gives them the freedom to do so while providing a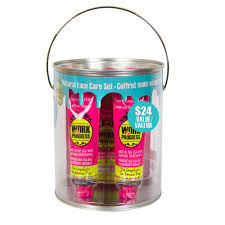 range of products aimed specifically at the teen and pre-teen age group.
This gift can set includes all full sized products: 2.02 oz. Face Lotion, 2.02 oz. Facial Cleansing lotion and 30 Facial Cleansing Towelettes. Made in the US, the products don't contain any sulfates, phthalates or parabens.
Recommended for children aged 8 and up, Fashion Angels Charm Mashup is a jewelry making kit that my adult daughter would have loved as a teen girl. With this kit, kids can create bracelets with beads, charms and colored threading. The charms have inspirational sayings like hope, love, and dreamer. The set also includes an infinity charm, key and lucky horse shoe. You can build up to 12 bracelets with the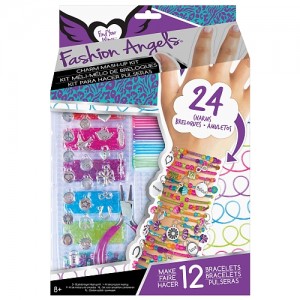 tools contained inside the kit. Kids will delight in designing their own custom, on-trend bracelet looks with the kit. Kit includes jewelry wires, charms, assorted beads, plastic beads, sparkle jelly tubing, jump rings, mini jewelry pliers and instructional design guide for inspiration. Children will love to wear and share the decorative bracelets they make with this kit.
First there was Rainbow Loom, now comes Pixel Loom from Fashion Angels. The loom and beading board make it easy to follow the designs included in the kit, or create your own! Kit Includes: loom, cube beads, glass beads, floss, satin cord, scoubistring, tweezers, thimble, design sheets, and instructions. You'll need glue, scissors and a ruler not included. Remove the wings from the loom, and place the string on the loom, placing the wings back on the loom to secure it. Take the bead tray and template and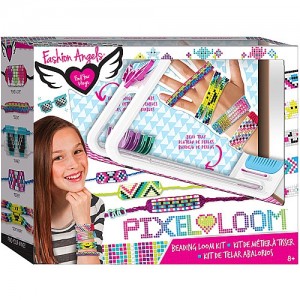 slide it into the loom.
Using your tweezers place your beads on the chord, color coded to the template. Once beads are on the top side of the chord, thread your needle through until the beads are on the underside of the chord. Pull through and tighten. Thread the next side of beads, slide down and place on the loom.
Continue until you get to the end of your bracelet and proceed like you normally would, and then proceed through the top side and tie a knot, then tie a knot at the end. Then remove the wings from the loom and remove your bracelet. Braid your bracelet and place the bracelet on the table, overlapping the breads and tying it off with another piece of chord. Place a dab of glue on the ends and wait for glue to dry. Once glue has dried, simply trim off the ends and your bracelet is made. I know it sounds more complicated than it really is.
Both jewelry kits would be the perfect tools needed to help girls start, run, and operate their own business.
These tween-teen gift ideas and other Arts & Crafts kits, jewelry making sets can be found at fashionangels.com.
About Fashion Angels
Fashion Angels is the leading designer and manufacturer of tween girls' lifestyle and activity products with offerings ranging from Arts & Crafts kits, jewelry making sets and fashion design portfolios as well as girls fashion accessories, hand bags and room décor items, which are marketed under the company's Style.Lab by Fashion Angels brand.