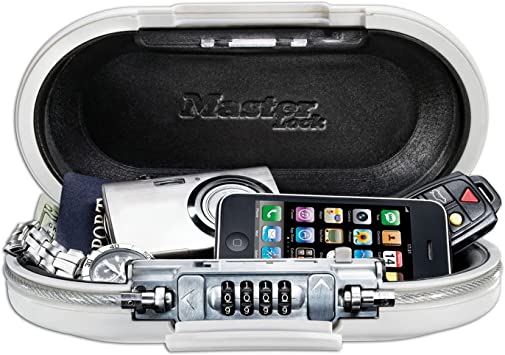 At work, school or home, find your Safe Space with Master Lock, a product you can trust. Master Lock has been building everlasting products since their founding date in 1921.
You can always rely on Master Lock for secure and authentic products with their "promise of strength and quality and by continually setting new standards for lock design, application and performance". You can't go wrong with Master Lock. When you think of school, you think of  Dudley-a registered trade mark of Master Lock.
Master Lock is a product that we have been using in our family for years. They are our go to for that quick dependable bike locks, and have been one of our top choices for Back to School Combination locks, and they have done it again with their Safe Space "Security on the Go" Combination Safe (Set-Your-Own Combination – No. 5900D).
The Safe Space "Security on the Go" Safe, is better than just dependable. It's portable, lightweight and super easy to use. Lock up your iPod and Cell Phone while you're "on the go" at the gym, or store your keys, and other devices while you run to class. Its multipurpose, built tough, and affordable.
For just $$18.99 (including free shipping) you get a little piece of mind knowing that Master Lock is watching over your personal belongings. It is water proof, and the interior is lined with a shock absorbing foam for that added bit of protection.
It's the ideal size and shape, and will never be out of place.  The Safe Space "Security on the Go" Safe is another great product from Master Lock.