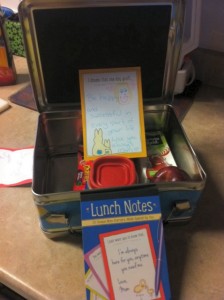 Every morning before work I take a few extra minutes and put a special note in my daughter's lunch. Lunch Notes are a wonderful way to build self esteem. If you don't already put lunch notes in your child's lunch, I encourage you to do so. Lunch notes can make all the difference in your child's school day.
I'll be honest, to my surprise, one day last week while at work, I opened my lunch bag, to find a beautiful poem from my adorable little girl. I felt so special and loved. Now I know just how she feels when she receives a note from me.
Add a bit of love to your child's lunch box with these adorable notes from ursospecial.com. Created and designed by a northern California-based graphic designer and mother of one, Patty Benson began designing Lunch Notes in February of 2014.
The inspiration came to her one day at lunch, as she reflected on how as a child she would open her lunch bag and find a note from her mom. Sometimes, the notes would be sweet, other times encouraging, or silly – but always super special, because it reminded her how loved she was.
She thought it would be great if more kids could experience that kind of joy, so Benson set out to create a fun, easy, creative way for parents to write their children personalized lunch notes.After months of drawing and writing and designing "Lunch Notes"was born. Each pad of Lunch Notes includes 25 sheets, each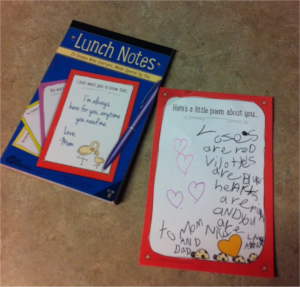 with an encouraging opening line and a fun and quirky picture.
The centre of the note is blank, so you can include your own positive, loving personal words of encouragement for your children. Some examples of the opening lines are, 'I love it when we sing', 'I brag about the fact that you' and 'You can do anything, even…'. The possibilities are endless with the wonderful little starters.
My daughter anticipates opening her lunch box each day to find a surprise note with words of encouragement from me.
There are three different sets available at ursospecial.com. With so many choices, every day can be a Special day!
Do you have a story to share about the giving or receiving of a note? Do you leave notes in your child's lunch?
Thank you to Celebrity Baby Trend Expert, Rachel Florio-Urso who introduced me to these adorable notes.