Coloring isn't just for kids! Chances are you've already heard it's the year of the adult coloring book. Currently, three of the top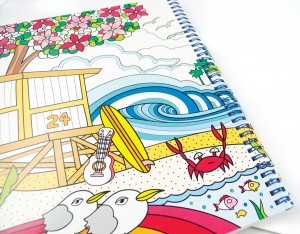 20 selling books on Amazon are adult coloring books. Coloring is a great form of therapy for adults.
Twenty-five year old Megan sits in the living-room of her one bedroom suite coloring a picture that is based on the artwork of Joe Vickers. The picture comes from an adult coloring book that was given to her by her mother. Soothing classical music plays in the background.
One year ago, Megan was in an ATV crash that nearly killed her. Today, she is a traumatic brain injury survivor trying to rebuild her life from the ground up.
In April of 2015, I had the idea to use coloring as a form of therapy for my daughter Megan. "The practice of coloring generates wellness, quietness and also stimulates brain areas related to motor skills, the senses and creativity", sites an article published in the Huffington Post that I read.
Other cognitive benefits for brain injury survivors can include organization, planning, problem solving, reasoning skills and eye hand coordination.
Furthermore, for a young adult such as my daughter, brain rest can be difficult as she often finds it boring to just sit back and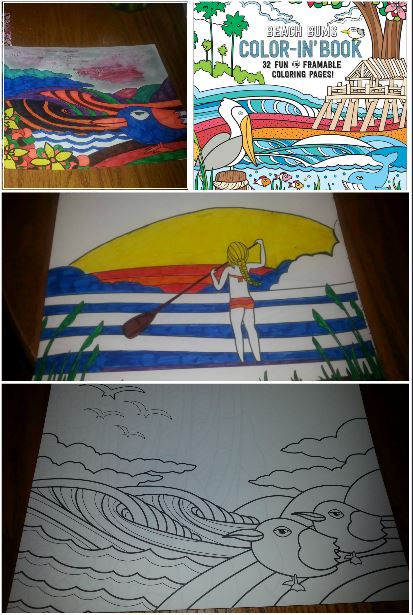 relax. Coloring has helped her.
The nice thing is that there are no rules to coloring. You simply choose your own instrument, be it pencil crayons, markers or jell pens and begin to color. Each color you use evoking different feelings and memories.
Megan uses bright colors in her coloring to stimulate mental clarity, making her feel calm and at peace, allowing her to picture herself at the beach- a place she can no longer visit due to impairments sustained from her accident.
"For me coloring has been very soothing, allowing me to deal with anxiety," said Megan. "For me, coloring is a form of meditation." Megan states that she never really listened to classical music, but pairing classical music with coloring gives her focus and seems to change her mood.
These adult coloring books not only serve to help someone, such as Megan take part in a relaxing activity they are also enchanting works of art, unleashing one's own creativity.
Each page in the Beach Themed Coloring Book, available for purchase at "International Arrivals" measures 9″ x 12″ and is perforated, so you can easily tear out the pages and frame them, creating a gallery wall in your home or give the framed photos as Christmas gifts.
The beach scene pictures feature extra lines among the waves and clouds to help you learn to add depth to your coloring.
Paper used in the coloring book is single-sided high quality paper for minimal to no bleed-through. The books feature spiral binding for a lay-flat design that makes coloring a breeze.
Coloring isn't just for brain-injury survivors. Coloring therapy can be for anyone who is looking for a way to de-stress and relax while engaging in the innocent pastime that they enjoyed as a child. If you would like to try color therapy for yourself, Beach Bums Color-in' Book and other coloring books can be found at ooly.com.
Adult coloring books also make great Christmas gifts. With a nice set of colored pencils or pens, you have the perfect gift.
International Arrivals is a contemporary gift/stationery company who offer an assortment of fun and functional items geared toward children and children at heart alike.
Joe Vickers is an Artist and surfer from Southern California.