Teddy bears are perfect for birthdays, get well gifts, baby gifts, Valentine's Day or just because. The teddy bear, a stuffed plush toy, is among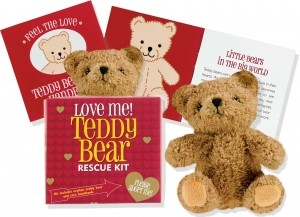 one of the worlds the most popular toys. Did you know that the Teddy Bear was first invented in honor of President Theodore Roosevelt, after he refused to shoot a bear during a Mississippi hunting trip in November 1902. This Valentine's Day what better way to let someone know you're thinking of them than to say it with an adorable Valentine's teddy bear from Peter Pauper Press?
Measuring just 5 inches tall this cute orphaned bear includes fun teddy bear history, a certificate of adoption, suggested names, places to fill in the little details that make your bear unique, advice for raising a happy bear, a cautionary note on porridge, and more.
Whether you want to give your recipient the "Love me Teddy Bear" on its own, or pair the stuffed bear with something, like chocolates,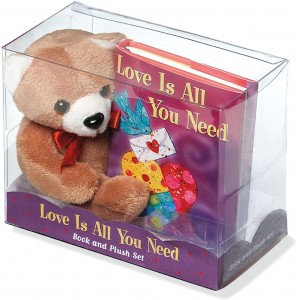 nothing says "I love you better."
It would be a cute gift for a friend or your child. Today's Woman reviewer Tanya is planning to surprise her daughter with this orphaned bear for Valentine's Day. If you are giving the bear to a child, our recommended age is three and over due to small parts.
The "Love is all you need" kit includes an 80-page pocket book and miniature stuffed bear. The included book by Lois Kaufman, illustrated by Linda Prater features inspirations by the likes of Shakespeare, Mae West, and Woody Allen-with recipes for heart cookies, love baths, and more. It's such a sweet book, and with the bonus bear it makes for a cute gift. Luckily for our wallets, both of these little teddy bears are items that can fit any budget. The "Love is all you need" kit is currently on sale for just $3.95.
The other nice thing about both of these cute teddy bears is that neither of them are Valentine's Day themed, so they have the added benefit of sticking around after Valentine's Day is over, allowing your recipient to have a constant memento of your thoughtfulness.
Visit peterpauper.com for these two cute bears and other Valentine's Day gift ideas.