If you're stuck for an idea for Valentine's Day gifts this year, purchasing a personalized candle from icustomlabel.com would be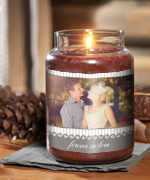 a positive step forward. After-all, candles are a synonymous of romance. What better way to set the mood this Valentine's Day than with a candle. Not only will they refresh her senses, they'll create the perfect ambiance in any room. It can be used to illuminate a romantic dinner, to provide some lighting during a quiet evening in watching movies, or for a sensual bath.
Modern technology has made creating this personalized gift so easy. Simply choose your candle scent. With the many scents of candles available, you shouldn't have an issue finding the perfect one. Each 24 oz jar candle has a 125 hour burn time.
Next, upload your image to icustomlabel.com. Add your text and preview your completed label before proceeding to check out. It is that simple. Personalized candle label products are available in an array of colors, so you will never lack for choice.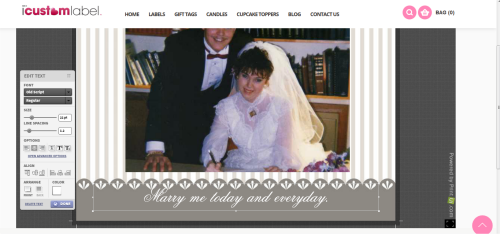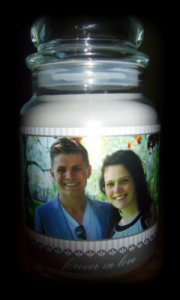 I really enjoyed being able to design my own candle. I was simply amazed at how well the overall product turned out. I was worried that the picture might come our dark, but it came out nice and clear. Because this is a gift for my son and not yet daughter-n-law, I have not lit the candle, but it smells great- unlit.
Personalized candles are not just for Valentine's Day. They are a relatively less expensive gift that can be given for any occasion. They would make the perfect wedding gift. Many of us have been in the situation where it was tough to find that unique and perfect wedding dress; or perhaps you couldn't access the wedding registry or you just wanted to do something different.
They are also perfect for anniversaries. Few things will light the occasion of an anniversary and say it better than a personalized candle. Check out iCustomLabel.com to start personalizing your candle today for all those picture perfect occasions. Take it from me; you'll be glad you thought outside the picture frame.