The monogram has become fashion's new favourite way to stand out from the crowd. Monograms date back to the Victorian era when the bourgeoisie, monogrammed everything and anything. Originally they were used as a sign of royalty and status.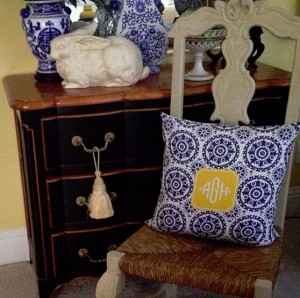 Today, monograms continue to flourish. More and more people are choosing to give monogrammed gifts to friends and loved ones, because they are so personal.  From a laptop case with initials on it, to ones moniker on a necklace, the monogram is a hot trend that has made a comeback.
"If it ain't moving, monogram it"- Reese Witherspoon.
In home décor, classic monogram pillows, throw blankets, dinner napkins, are popular. Tech accessories like Smartphone cases can also be found with the monogram personal touch.
When it comes to fashion, classic rugby shirts, long sleeve t-shirts,  men's shirts for her, rain jackets with initials woven into the mix are making the rounds.
And in terms of accessories, your best bet is Monogrammed New England Fleece Boot Socks. They look great paired with your Heidi boots from Kamik. They could even serve as a great personalized gift.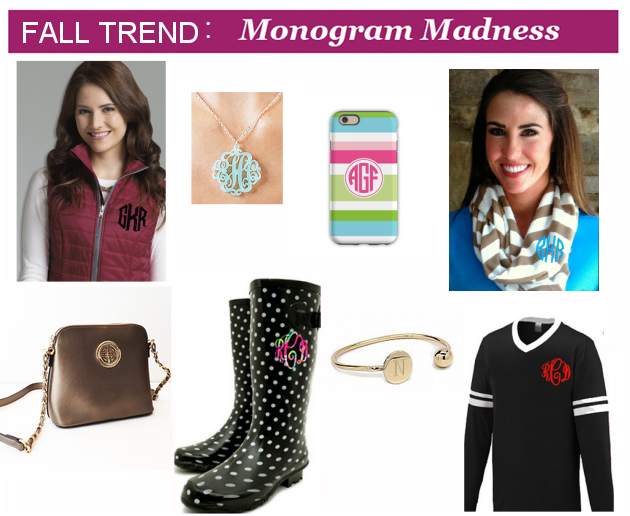 Here are a few of our favourite monogrammed pieces this season. All would make wonderful Monogrammed Gifts for Christmas:
Chic and cheeky, the Monogrammed Women's Radius Quilted Vest is perfect for pairing with your favorite skinny jeans. A WOW for your cool weather wardrobe!
Monogrammed jewelry is most popular on the Fall fashion scene. As seen on many celebrities, monogram necklaces offer a sophisticated twist on the classic nameplate necklace For a subtle yet glam look, shop for a three-letter monogram necklace.
Sweet and subtle, the Lisa bracelet bangle cuff is the perfect accessory for anyone who is looking to embrace the monogram trend.
If you'd rather carry your monogram like Kate Bosworth does,

a designer inspired messenger handbag in bronz is the way to do it.

Our phone is as much of an accessory as our handbag. Protect it while making it look pretty with a monogrammed phone case.
Get your game day on and show some school spirit with a jersey knit long sleeve tee.
Style a denim jacket with an infinity scarf featuring your 3 initial monogram for this year's hottest look!
What better way to dress up those boring rain boots than with these super cute decals?
Made of 100% pre-shrunk cotton this ladies long sleeve t-shirt is my daughter's wardrobe go to essential and is so much more stylish with a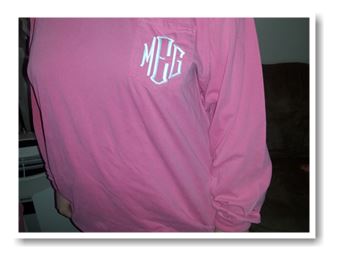 monogram than just a plain tee! My daughter wears it with leggings while partaking in physiotherapy at the gym, and it is her weekend shirt while lounging around at home.
It is the perfect mix of comfort and fit! Add a touch of cute and preppy to your comfortable clothes with these long sleeve pocket t-shirts.
If you're looking to add a personalized touch to your wardrobe this upcoming fall season,  or if you are  looking for Monogrammed Gifts for Christmas, then Miss Lucy's Monograms (misslucysmonograms.com) has many personalized choices.
Now, go make like a primary school student and start putting your name on everything, from your rain jacket, to your cell phone case.
What are your thoughts on monogram fashion? Do you love or loathe monograms?