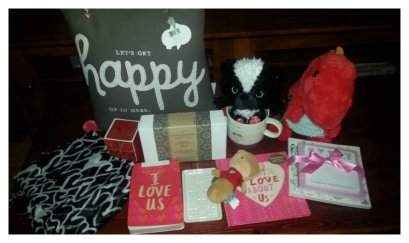 If you're stumped for Valentine's Day gift ideas, look no further than Hallmark. Hallmark Gold Crown stores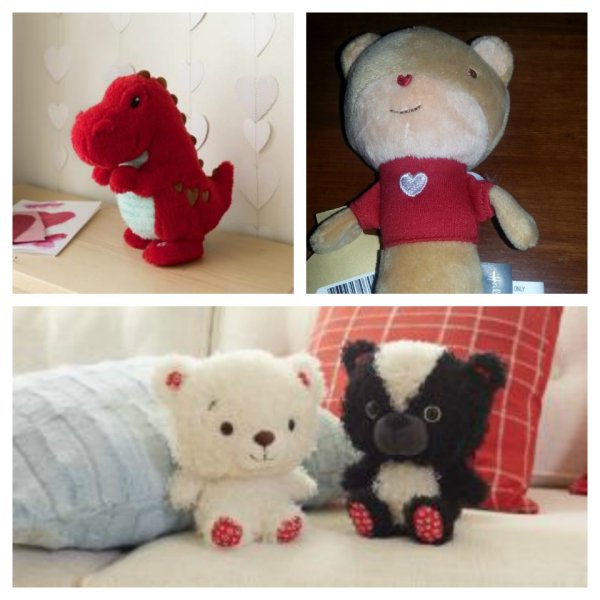 offer a variety of Valentine's Day gifts that will bring love, laugh and smiles. No matter what type of relationship you're looking to celebrate, they have options for everyone.
This hug-able, lovable Techno Plush Character will sing and dance his way into the heart of your loved one. The Love-a-Saurus Techno Plush brings big love, a bigger roar and some masterful dance moves. Just press the button to watch Love-a-Saurus sing and dance to a parody of "U Can't Touch This" by MC Hammer.
Stuffed animals are a universal staple of any child's bedroom. For your favorite little stinker – the Love Is In The Air plush skunk will make them giggle. Cuddle to Share Bear is also available. Each one retails for $7.95 with the purchase of three Hallmark cards.
Shake up Valentine's Day for your littlest Valentine with a soft, cupid bear rattle. This adorable bear is sized just right for baby's hand to hold.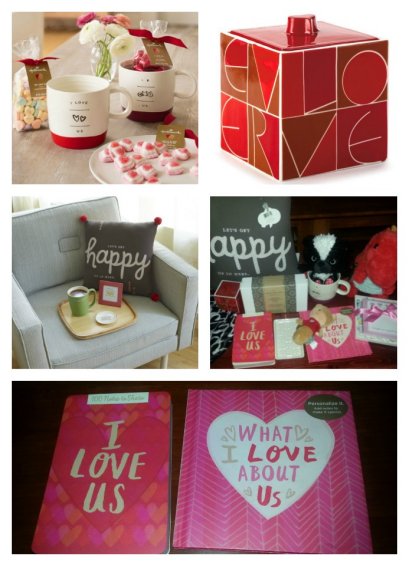 Start their day off right with an oversize Valentines Day coffee mug. Each ceramic mug holds 13 oz of their favorite hot beverage. Choose from 6 different designs. For something extra special fill the mug with their favorite chocolate or candy.
Tell your sweetie how you feel with the help of these little love notes. Tape one to the mirror or leave one on his pillow-no matter where you put them, these sweet nothings will keep you falling in love over and over.
Show that special someone why you're better together with this fun and flirty personalize book. The 48 page book include question prompts like: Without you I would never have.
The stacked memo pad set with pen is tied up with fabric bow, ready to give. The notepad is printed on beautiful, heavy paper, perfect for hand-written notes. The set retails for $7.95 with any purchase. This desktop must-have is a pretty gift to give to family members or a friend.
On the home decor front comes this beautiful Red Love Porcelain Treasure Box. The sweet little heart trinket box would make a great holder for that special piece of jewelry.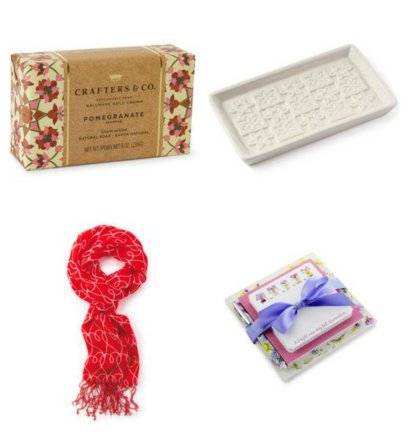 Show your love with an embroidered pillow. This pillow features embroidered and appliqué front details with pom-pom attachments saying: 'Let's get happy up in here.'
A Valentine soap set for your valentine this year is the perfect gift alternative to a box of chocolates. Each 8 onz bar comes wrapped in a beautiful artistic print and is available in eight fabulous scents. For something extra special, gift it with a white ceramic soap dish.
Wrap them in love in this beautifully soft scarf scattered with little white hearts. It's an instant classic that will take her from day to night.
Other Valentine's Day gift options from Hallmark include jewelry, itty bittys Dr. Seuss characters, and a Count On Me Bear Techno Plush.
Valentine stickers and a variety of gift bags, wrap, tissue and add-ons makes one-stop valentine shopping easy. And don't forget, whether romantic love, love for family members or sharing a laugh with friends, Hallmark offers Valentine's Day cards for the widest range of relationships.
Hallmark Valentine's Day cards are available at Hallmark Gold Crown® stores nationwide.
Website: http://www.hallmark.ca