It's important to keep kids safe this summer. Trips to crowded places like the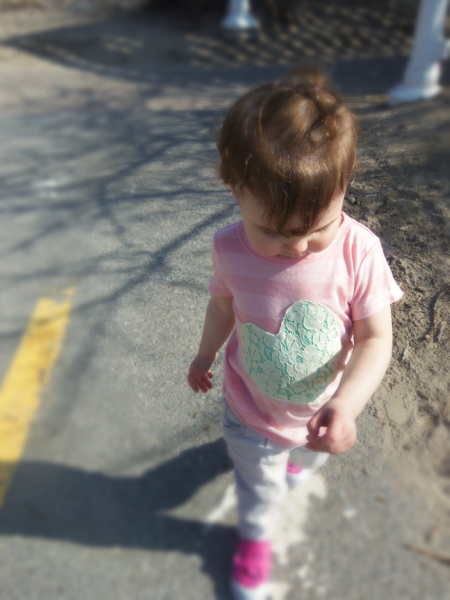 zoo, theme parks, and festivals can be great experiences for young children, but they can also be a place of curiosity and wonder. As parents, we all know that it takes only a second for a child to wander away.
The National Center for Missing & Exploited Children has some tips for children and parents on amusement and theme park safety. The pointers include:
Take a photo of your children before you enter the park, so you can show it if a child goes missing.
Instruct your children not to wear clothing or accessories displaying their names.
Accompany young children on rides in the park. If you decide to let young children go on rides without you, wait with them in line, watch them enter the ride, and immediately meet them when they exit the ride.
Accompany younger children to restrooms in the park. Older children should TAKE A FRIEND with them when going to the restroom.
GPS tracking devices
For young children, many parents are turning to GPS tracking devices for their kids and teens to help give them peace of mind. From devices worn on your child's shoe to devices that resemble a watch, there are many products on the market.
Child Safety Harness
For small children, many parents turn to child safety harnesses to keep their little ones close. Toddler safety harnesses come in a variety of adorable kid-friendly styles that can be found in any baby store you can find the best sellers in toddler safety harnesses & leashes on Amazon.
Skip Hop a New York City company devoted to designing great products for parents has a popular line of toddler harnesses. The harness comes in a variety of styles, including giraffe, bee, owl, monkey, ladybug, and puppy. Each safety harness backpack features friendly Zoo faces, adjustable pack straps, and a top grab handle. The secure easy-to-attach tether keeps your toddler close by.
TEMPORARY TATTOOS for Child Safety

Another option for young children is safety temporary tattoos. The Safety Tat was invented by Michele Welsh, a mother of three from Baltimore. She came up with the idea after she used a simple ballpoint pen to write her cell number on her children's arms during a family trip to a crowded park.
These safety temporary tattoos are perfect for pre-verbal children, children with limited vocabulary, or children with special needs who might have difficulty recalling or conveying a phone number should they become lost.
SafetyTats are worn on your child's arm or hand and simply feature your mobile phone number, which is easily readable should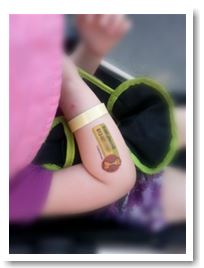 they become separated. The tattoos are non-toxic and can last up to 5 days. SafetyTat uses medical-grade, hypoallergenic, latex-free adhesives on all its products.
The tattoos come in two styles, Original and Quick-stick Write On. You can also choose to design your own safety tattoos with Safetytat TatBuilder.
Requiring no water to apply, Quick Stick Write-on Child ID Tattoos are a peel-n-stick skin applique. Original SafetyTat Child ID Tattoos are much like traditional temporary tattoos, which are applied with water.
I recently got to test SafetyTats on two occasions, once on a trip to the zoo and once on our trip to our waterfront local festival, which is being hosted this weekend.
My daughter was really excited and waited patiently to get her temporary tattoo applied. Though she doesn't quite understand why she is wearing one, it gives me some added peace of mind knowing she has one on and she is eager to show everyone her tattoo, which she calls a sticker.
We own the Original SafetyTat Child ID Tattoos and the application was very simple.
I made sure my daughter's skin was clean and dry and free of sunscreen.
I chose a place to apply the temporary tattoo on her arm.
Next: I carefully peeled the clear transfer sheet away from the colored side of the temporary ID tattoo using my fingertips.
With dry hands, I pressed and held the tattoo firmly in place on my daughter's arm for one minute.
I then thoroughly wet the back of the temporary tattoo with a damp piece of paper towel. Within seconds, the paper slips from the temporary tattoo. I then let dry completely and told my daughter not to touch it.
It was that simple!
I do recommend particularly with very young children, that you remove the tattoo after use so the skin can "breathe" instead of leaving it on for several days. You can remove your child's temporary tattoo with baby oil or rubbing alcohol.
Although other identification products like ID bracelets, and wristbands are useful they can easily removed, therefore, are not as effective.
For review purposes, I left the tattoo on to determine the length of wear. The tattoo held up and was still legible, with no signs of wear 48 hours after it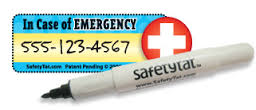 was applied.
Safety Tats don't stop with phone numbers. Welsh has created a line of Medical Safety Tats that can list allergies or other medical conditions. They are also perfect for seniors with Alzheimer's, or dementia as they provide caregivers with a valuable safety tool: to quickly reunite them with their loved one should they become accidentally separated.
You can purchase SafetyTat temporary tattoos directly from the SafetyTat.com website or from the list of local, online, and international retailers. The tattoos are available in 24, 48, 72, and 96 packs. They conveniently store in your purse or diaper bag for quick use.
With back to school not far away, a Safety tattoo would provide an extra layer of protection on school field trips.
What tips do you have for visiting crowded places? What do you think of applying for a temporary tattoo?