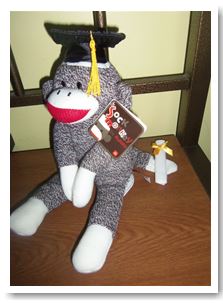 Sock Monkeys have been around for decades. They originated in the Victorian era, when the craze for imitation stuffed animals swept from Europe into North America. Today, sock monkeys are still popular with children of all ages. They come in many different styles, from the classic or vintage style to colourful patterned monkeys. The love of sock monkeys has led them to become apart of many special occasions including the welcoming of a new baby, birthdays and graduations to name a few.
This 12" graduation sock monkey from Aurora proudly displays his diploma, and graduation cap. His hands have hook-and-loop to allow the monkey to be attached and swing from various objects. Whether it is for a primary school graduation, high school or college graduation, the sock monkey is always appreciated! I found it to be an adorable memento of graduation, that would be cherished by any graduate who receives it and be loved by future children and grandchildren as well.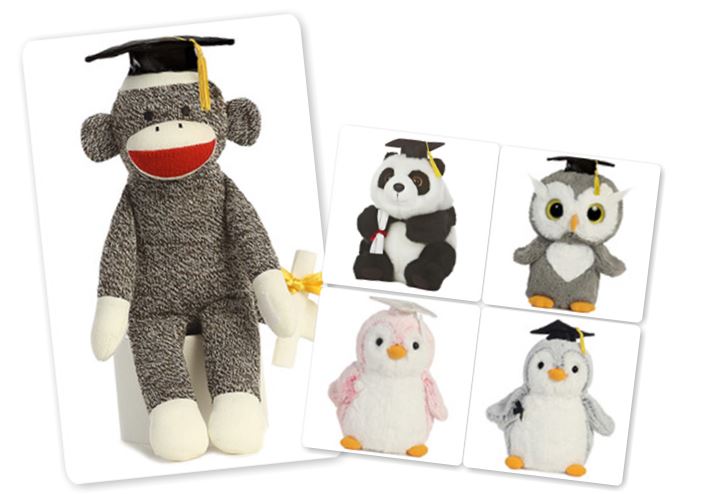 Aurora also carries many other graduation-themed plush gifts. "From classic bears and owls to sock monkeys and plush that classmates, friends and family can autograph, you will be sure to find something your graduate will love.
Aurora products are available in more than 25,000 specialty stores and gift shops worldwide as well as online at shop.auroragift.com.
About Aurora
Aurora World, Inc. is a leading manufacturer and supplier of high quality, competitively priced plush toys, dolls and gifts. Aurora's name reflects its extensive product lines and growing influence in the worldwide marketplace, as well as its international manufacturing, R&D and distribution resources. Founded in 1981, the company has headquarters in Korea, United States, the United Kingdom and Hong Kong, and has ascended quickly to become a respected leader in the toy and gift industry. Aurora created the international plush toy phenomenon – YooHoo & Friends™ – and its corresponding free, interactive web site (www.yoohoofriends.com), appealing to young children and tweens alike. The company sells its products via a wide variety of retailers including major zoos, high-end toy stores such as FAO Schwarz, top gift and stationery chains such as Nordstrom, Hallmark and Papyrus, hospital gift shops, fine florists and specialty stores worldwide. Learn more at www.auroragift.com.