Personalized Gifts for Dad
It is not always an easy task to choose a good gift for dad. Men can be among the most difficult people in the world to buy for.
So, this father's day why not give dad a gift that he can really use.
Cooler bags are used for picnics, camping, and boating, fishing and sports events. Many of us even use them to store drinks while traveling.
Ogio, is a company that offers a selection of cooler bags. I was recently introduced to Ogio by Bruce and Debbie Walker. Their website, Miss Lucy's Monograms carries both the OgioParty Sized Cooler on Wheels and the Ogio Insulated Deluxe cooler bag.
Ogio Chill 24 Can Cooler Bag won't let you down. It is the must have bag this summer.
The zippered, insulated main compartment holds eighteen to twenty-four 12 oz cans, while a front zippered pocket is perfect for snacks.
The thermal lining of the cooler bags prevents the drinks from absorbing heat, allowing the drinks to remain cold.
Additionally, the bag was crafted with convenience in mind. It features dual side beverage and accessory holders, which we found perfect for holding bottles of water.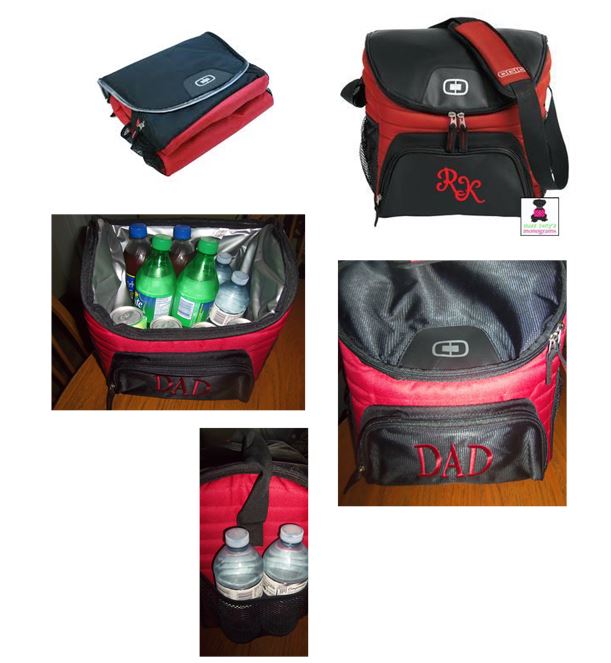 My husband and I have already used our Ogio cooler bag on several trips. We found it to be light weight, compact and hold just the right amount of beverages. The leak-proof lining is easy to clean, and we love that the bag compacts for simple storage when not being used.
The best advantage to this bag is that Miss Lucy's Monograms will embroider a logo on the cooler bag, making it the perfect personalized father's day gift.
If it's a day out at the golf course, a picnic with the family, or a way to keep dad's beer cold, the Ogio cooler bag makes the perfect gift.
Miss Lucy's Monograms began five years ago in the home of Bruce and Debbie Walker. The couple live just outside Atlanta, GA. A retired high school theater teacher, Debbie decided to start her online monogramming business because of her love for monogrammed accessories. The family named the business after, Lucy, a puppy-mill-dog they had rescued. The couple's daughter helped design the logo and it was from there the business was born.
With over 500 accessories available, including fishing shirts, golf towels, laptop cases, cooler bags, bbq aprons and more, you will be sure to find something that he'll love. Debbie has many fun gifts that would be perfect for dad. The best part is the beautiful monogramming work done by Debbie is included in the price.
As an added bonus receive a free gift for yourself on any order of $35.00 or more.
Miss Lucy's Monograms costumer service is simple outstanding. I would certainly do business with them again.