The school year is winding down and many students are getting ready for graduation. In fact, some college and university students have already graduated. Hallmark has some great graduation gift ideas for grads of all ages.
Whether graduating from kindergarten or university, show your grad how proud you are of their accomplishments with one of these graduation gift ideas.
The Autograph Bear helps graduates remember the big day in a special way. Friends and family can add their warm wishes giving a way for the graduate to save and appreciate memories of the special day.
In the spirit of autographs and keeping memories alive there is also the super cute Autograph Photo Poster. It's a 2015 cut-out with a picture insert and a place for friends and family to sign.
Give your graduate something to hold their coffee in with these Class of 2015 and YOU DID IT Tassel mugs! Be sure to include a Tim Horton's or Starbucks gift card in the mug for something extra thoughtful. The mugs are dishwasher safe. My daughter plans to gift one of the mugs to her friend who just graduated from college.
Other commemorative items include key chains, grad hat gift card holders, and photo frames. My son will be a university graduate next year , at which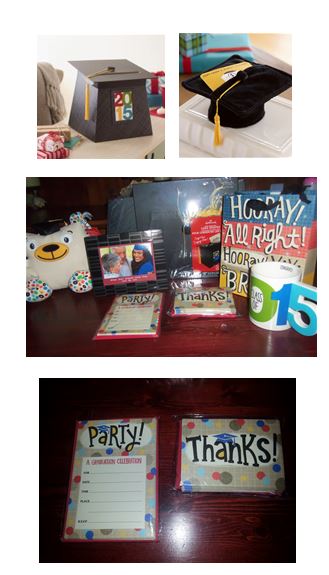 time I will be earning my bragging rights. I can't wait to place his graduation photo in the frame featuring the words, When their dreams come true…ours do, too.
Hallmark offers a range of Graduation party invitations, decorations, gifts bags and cards. Styles of invitations include: Cap, Gown, Party Down; Kraft, Stripe 2015 and Tassel. Each package includes 10 fill-in-the-blank invitations.
Cleverly shaped like a graduation cap with tassel, the 2015 Graduation Cap and Gown Card Keeper Box Souvenir is a convenient way to collect graduation cards from guests at their graduation party. Simply set the box on a table; guests insert their cards and envelopes through the generous opening on top. Guests can also sign the box and your grad will have a great souvenir from their big day.
Graduation gift bags make an excellent presentation and it's an easy way for you to wrap up your gift for a new grad.
Remember, thank you notes should go out as soon as possible — don't take more than a month to give proper recognition. Hallmark offers a range of affordable thank you cards as well.
These are just a few of what's in store at Hallmark. Hallmark Canada not only has the perfect gift for the special graduate in your life, but they have some wonderful gift ideas for teachers as well.
Available at Hallmark Gold Crown® stores across Canada and wherever Hallmark products are sold.
What is the best graduation gift you have ever received?