Apart from helping your child sleep, Toddler Pillows are often recommended by Pediatricians for children suffering from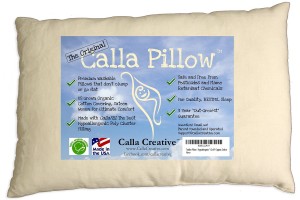 chronic ear infections, colds, and children suffering from GERD.
Many "experts" suggest that the best time to give your child a pillow is when you make the transition from crib to a bed, which normally happens between the ages of 18 to 24 months. My daughter made the transition from crib to bed around her 2nd birthday, but didn't start using a pillow until she was 29 months old.
When introducing a pillow to your child there are many things to consider.
Children cannot sleep comfortably on pillows that are designed for adults. Any pillow put on a child's bed should be firm, but not too firm. Soft pillows have a higher likelihood of causing suffocation. To evaluate the firmness of the pillow, press the pillow and watch how fast it regains shape. If the pillow does not move or only slightly moves, it is too soft. If the pillow does regain its shape right away, it might be too firm for your toddler. Keep in mind when purchasing a toddler pillow that you buy one that is non-allergic, in case your child suffers from allergies.
Several manufacturers offer pillows designed specifically for toddlers. On my search for a pillow for my daughter I came across Calla Creative via Amazon.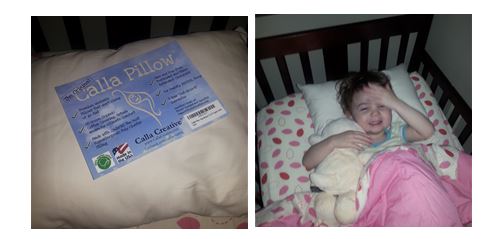 Calla Creative is a parent-founded and operated business. Their pillows are manufactured exclusively in the United States. The company prides itself on manufacturing quality products and customer service. Each Calla Creative pillow is handmade and individually inspected for quality.
Measuring 13-inches x 18-inches, the Calla Toddler Pillow allows my daughter's head, neck and shoulders to be supported, in a size proportional to her small body.
Material of Toddler Pillows
The covering on the pillow 100% GOTS certified organic cotton and there are no pesticides, flame retardant chemicals or any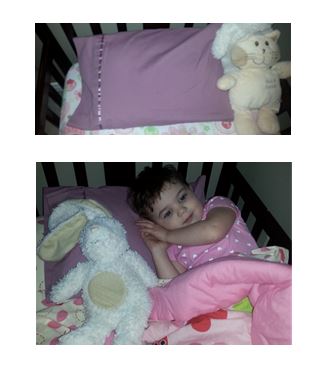 chemicals anywhere on the pillow – so I can rest assured that she isn't breathing in any residual chemicals while sleeping.
Calla Creative uses a special kind of filling called CallaFill – It's a poly cluster fiber that washes extremely well – it doesn't clump and doesn't go flat (provided I don't wash or dry the pillow with heat).
I machine washed mine on delicate and it came out fine.
Calla Creative uses a 280 thread count sateen weave, making the pillow extremely durable, soft to the touch and comfortable for my daughter to sleep on.
Calla Creative stands behind their pillows offering a three year guarantee that it won't lose its bounce and will hold up to many years of washing.
While no pillowcase is needed for the pillow, we use one on it. If parents are wondering where to find a pillowcase to fit the pillow, you can make your own super easy toddler pillowcase, with a bit of cutting and sewing. Instead of purchasing fabric, we just used an old pillowcase.
Not only does this pillow make the perfect companion at home, but when we are on the go too! It would make also make a fantastic airplane pillow that will improve your next trip.
As for my daughter, she loves her new pillow and has become very possessive over it, which is likely just a preschool thing, but nonetheless we know she loves her pillow and has been sleeping well with it.
The only downside of this product for some parents may be the high price tag. The high price tag is however justified due to better material use and construction.
Overall, I would highly recommend Calla Creative pillows to any parent looking to purchase a toddler pillow for their child. The company offers excellent customer service and a superb product, what more can you ask for?
Website: http://callacreative.com